Happy Friday! This is the first Friday I have had to work in like a month, so it isn't quite as happy as the last few have been, but it is the end of the week, so I'm happy about that! It has been pretty easy around here this week since Rylie has been
vacationing at Mama's house
. Rylie and Mama are having a great time there, and we have been having a super fun time with Bryce here.
This weekend is probably not going to be all that great. We are most likely putting our cat, Shadow, to sleep tomorrow. The poor guy has been through so much in the last couple of months, and now he has pretty much stopped eating. I don't know what else we can do for him, and I don't want him to suffer. If he is not eating, he obviously isn't feeling well, and I imagine that pretty soon he will starve himself to death. I don't want that to happen. It breaks my heart to lose another member of my family, but I know we are making the right decision for him.
Rylie will come home Saturday, and that will definitely be a good thing, because I miss that little stinker so much. Brian and I have a date night planned for Saturday night to see Hangover 2 and have a nice dinner out, so hopefully that will help our spirits some. Other than that, we have no plans.
What about you? Is anyone doing anything exciting this weekend? Who is going to see
Cars 2
?
---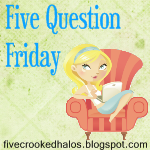 Now for some Friday blogging fun! If you would like to play along with 5QF, head over to
My Little Life
and link up!
1. What is your current favorite tv show?
We watch a lot of TV. Well, I should say that we have a lot recorded on our DVR. Due to some late nights for both of us on the computers, though, we don't have much time to watch all of the TV we like to watch. I would have to say that my favorite TV show is
Criminal Minds
. That is the only show we actually kept up with and watched all of the episodes from this past season.
2. What's the worst haircut you ever got?
I have had so many bad ones that it is hard to pick just one. But I'll have to go with "muffin head". Yes, that became my nickname after that horrible hair cut. I'm pretty sure I was in middle school when this debacle happened. We went to a salon and I saw this picture of this woman with this sassy do. It was curly on the top and then super short and straight in the back. I just had to have that hair! My head seriously looked like a muffin!
3. What was something that you did as a child that you thought you were so cool for doing?
Hmmm. I was never one of the "cool" kids, so I don't have too many instances of thinking I was cool. My brother and I always thought we were so cool for jumping off the top of the pool slide into like 2 feet of water. We had a slide that went into our pool that was like 7 feet high. It emptied into the middle of the pool where there was plenty of water, but Danny and I would climb the ladder and jump off the highest part...right into the shallow end of the pool. Of course we did this when my mom wasn't around. Not only were we jumping in the shallow end of the pool, we also had to clear a couple feet of cool deck to get there. Looking back, it wasn't so cool, it was just downright stupid. My kids better NEVER attempt this when they are at Mama's house!
4. Do you have any GREAT frugal family fun tips?
Just give your kids cardboard boxes to play with, instead of fancy toys. Haha Sorry, that's about all I have. I am open to suggestions, though. Frugal family fun is a necessity around here these days.
5. Would you drive across country if you had the money to fly?
No. And not just no. HELL NO! I hate road trips. After about the first hour of driving, I just want out of the car. We used to take road trips for our summer vacations every summer, and they were horrible. My brother and I both got car sick, and we would fight all the way. My family drove from St. Pete, FL to San Antonio, TX to watch me graduate from Basic Training way back when. To this day, I still don't know how they did it. 24 hours in the car? No thanks!
---
Don't forget to stop back by after 10PM EST tonight for my
Weekend Win It
giveaway linky, where you will find some great giveaways to enter, and you can also promote yours! Come on over on Saturday for
Saturday Playdate
and meet a fabulous guest blogger. Then come back on Sunday for
Relax & Surf Sunday
, where you can link up your blog and hop around on your own terms, with no rules!