TGIF! It has been an exhausting week! Between
Bryce's arm
and my poor little cat, I feel like I'm always taking someone to an appointment! I even have a doctor's appointment myself today, but hey, I don't have to go to work!
What's on the agenda this weekend? We have a really busy weekend, which is good, because I'm going to need the distraction. This Father's Day is going to be particularly rough for me. I'll be visiting the cemetery with my mom and brother to wish my dad a happy Father's Day. I don't even know how I'm going to get through the day. Saturday will be fun, though, when Rylie and I get to go see an advance screening of
Cars 2
! We're taking
Angelica
and her mom with us, so it should be a great time!
I hope you all have a great weekend!
---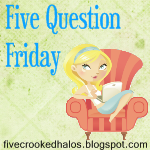 Now for some Friday blogging fun! If you would like to play along with 5QF, head over to
My Little Life
and link up!
1. What is your favorite summer time activity?
Swimming with the kids! I swear I have two little fish on my hands. We always have so much fun in the pool! Rylie is quickly getting over her fears and is swimming around a lot more now. And then there's Bryce, who is fearless and thinks he knows how to swim. Not to mention it is cheap fun, and I don't have to shower or pack up half the house to go somewhere!
2. Do you have one laundry soap you stick to, or do you buy whatever's on sale?
I am pretty brand loyal with laundry detergent. We use Tide HE Free & Gentle, or whatever it is called. I won't use anything scented since we all have pretty sensitive skin, so I am limited as to what I can buy anyway.
3. What is your favorite dinner to make in the summer?
Burgers and dogs on the grill! I love the smell of the grill going on a hot summer evening!
4. Do you have any talents?
Hmmmm. Not really. I guess I can dance pretty well, although I haven't put my moves to use in a while. LOL
5. If you could instantly be an expert in something, what would it be? Why?
Counting cards. So I could go to Vegas and win a ton of money!
---
Don't forget to stop back by after 10PM EST tonight for my
Weekend Win It
giveaway linky, where you will find some great giveaways to enter, and you can also promote yours! Come on over on Saturday for
Saturday Playdate
and meet a fabulous guest blogger. Then come back on Sunday for
Relax & Surf Sunday
, where you can link up your blog and hop around on your own terms, with no rules!