Happy Friday my friends. Today marks the 2 month anniversary of my dad's passing, and not that I don't still think of him every single day, but these "anniversaries" make it even harder for some reason. I keep waiting for it to get easier, but it doesn't.
I decided yesterday to take an impromptu vacation day today. I have a doctor's appointment at 11, and it is clear across town, so I would have had to be gone from work for like half the day anyway. My best friend Melissa is coming to visit this weekend, so I figured I would get things done around the house so she doesn't think she is walking into a natural disaster when she gets here. Plus, I have to get my weekend blogging done since I will not be on the computer over the weekend. We have a birthday party tomorrow morning, and then we'll just be hanging out the rest of the weekend. I love when Melissa and I get the opportunity to hang out, especially since we don't do it often enough.
What are you all up to this weekend? I hope it is a great one!
---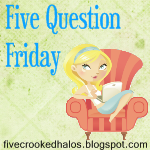 Now for some Friday blogging fun! If you would like to play along with 5QF, head over to
My Little Life
and link up!
1. How close to your childhood dreams is your life now?
Well I wanted to be a doctor or a lawyer, so I guess it isn't that close. LOL But I knew I wanted to have a family and be successful, so my dreams really have come true.
2. What is one must have item for the summer?
Air conditioning! I live in Central Florida and it is HOT HOT HOT here. I couldn't imagine living without air conditioning.
Second on my list (not that it was asked) would be sunscreen. Because I'm allergic to the sun. Go figure.
3. Do you have your kids stay up on school stuff during summer vacation? (Or, if you don't have kiddos, did your parents make you keep up on school stuff during summer?)
I have kids, but they are too young yet for "school stuff" and will be going to school every day in the summer anyway. I don't remember my parents making us keep up with school stuff over the summer. My mom was a teacher, so she probably needed a break from it all as much as we did. ;-)
4. Do you can or freeze fresh produce?
I can it and freeze it! Because that's how I buy it. LOL
Seriously, no. We don't buy more fresh produce than what we will eat in a couple of days. Up until I started
Nutrisystem
, other than bunches of bananas, we didn't buy much fresh produce anyway.
5. Do you get ready for the day first thing in the morning?
During the week, yes. I have no choice. It is usually a in a mad rush, too, since I can't seem to get my butt out of bed when my alarm goes off.
On the weekends, unless we're going somewhere, I may not "get ready for the day" at all. My getting ready for the day usually means putting my bathing suit on.
---
Don't forget to stop back by after 10PM EST tonight for my
Weekend Win It
giveaway linky, where you will find some great giveaways to enter, and you can also promote yours! Come on over on Saturday for
Saturday Playdate
and meet a fabulous guest blogger. Then come back on Sunday for
Relax & Surf Sunday
, where you can link up your blog and hop around on your own terms, with no rules!