TGIF, my friends! I am so glad this week is over. It has been a rough one for me. Hell, it has been a
rough month
. But for some reason, this week was especially tough, and I'm just glad it is over. I'm looking forward to this weekend to just relax some, and try to get myself in a better state of mind.
Today I'm celebrating Mother's Day at school with the kids for "Muffins for Moms". I love how they put on these little events to get the parents involved. It is nice to chat with the teachers a little bit too. Rylie has been so excited about this, and she is so glad the day is finally here! After I eat muffins with the kids, I'm off to (
finally
) get another Keratin treatment. I need it so badly! My curl has come back, but not in a good way, and I am burning the heck out of my hair with the flat iron. The rest of the day will be spent doing laundry and blogging.
Saturday we are headed to Lakeland for a birthday party. Since Lakeland is halfway between here and my mom's house, my mom asked us if she could meet us after the party and take Rylie home with her. She really wants to take her to the zoo. So Rylie and my mom will be spending Mother's Day together. As long as my mom is happy on her special day, then I am happy too, even if I won't get to spend it with her. Rylie will be back either Monday or Tuesday, I guess.
What am I going to do on Mother's Day? NOTHING! I'm going to lay in bed and watch TV and eat bon bons all day. OK, so maybe that isn't true, but I have nothing planned. I'll do what I want to do. After all, it is my special day too, right? :-)
I hope all of you moms out there have a wonderful Mother's Day! You all deserve it!
---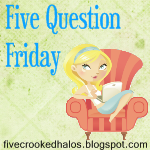 Now for some Friday blogging fun! If you would like to play along with 5QF, head over to
My Little Life
and link up!
1. Have you ever had roommates?
Yes! When I left home to go to FSU for my junior year of college, I lived in an apartment with three other girls. What a disaster that was! The quarters were just too close for the four of us. My best friend Rebecca was one of my roommates and I'm just glad our friendship survived all of that nonsense.
My next experience with roommates was at Air Force basic training where I had a ton of them. As if four weren't enough, forty something were even worse. LOL
Rebecca and I ended up living together again until we realized that we really probably shouldn't live together. I have no idea why we couldn't make that work. I'll take the blame...I'm not easy to live with. After that I lived by myself for a while, and then moved in with my brother. When I got to Orlando I lived with a friend for a month or so until he moved away, and then lived with a co-worker for a bit, and then finally got my own apartment. The only other roommate I have had since then is Brian, and that man is certainly a saint for still living with me!
2. How many names do you/your children have? (i.e. Prince Charming William Phillip Arthur Louis John Jacob Jingleheimer-Schmidt)
Real names? Just three - first, middle and last. But the nicknames get a little long sometimes.
3. Did you watch the Royal Wedding?
I watched a few minutes of it. I really didn't get all the hype over it, and it wasn't like I got up to watch it. I always have the TV on when I get ready in the morning, and that is just what happened to be on when I turned the TV on that morning.
4. What is the messiest room in your house?
The question should probably be "What is the cleanest room?" Because they are all messy. But for the purpose of this question, we'll go with the guest bedroom. There are tubs and boxes and more tubs filled with clothes my kids have grown out of stacked all over the place. There are other random baby items thrown in the mix too. The futon mattress is in there standing up against the dresser so the cat didn't get mad at my mom's dogs and pee on it. The dresser is piled high with random crap that I have no other place for.
Who wants to come visit? There is a path to the bed!
5. What is your ideal Mother's Day?
My ideal Mother's Day would be just hanging out with my mom. Or better...hanging out with my mom on a cruise ship or a tropical island somewhere. We always have the best time together! But since I won't be hanging with my mom this year, I could go with something along the lines of what my friend
Jennifer
is doing. A spa day sounds fantastic!
---
Don't forget to stop back by after 10PM EST tonight for my
Weekend Win It
giveaway linky, where you will find some great giveaways to enter, and you can also promote yours! Come on over on Saturday for
Saturday Playdate
and meet a fabulous guest blogger. Then come back on Sunday for
Relax & Surf Sunday
, where you can link up your blog and hop around on your own terms, with no rules!