Happy Friday! I have been waiting for this day all week! Why? The main reason is because I don't have to work today. Woo hoo! Well, no, actually I have a better reason than that...I'm getting a massage today! One full hour of someone rubbing all of the knots out. Trust me, there are plenty of them. I can't wait! First I have to take the cats to the vet for Morgan to get his lungs checked, and for Shadow to get weighed. Hopefully they will both get good reports.
On Saturday,
Andrea
and I are taking our little princesses to the Kidtoons movie of the month -
Olivia and the Great Outdoors
! I think this is going to be a super fun time for all of us. Rylie has been to several movies and loves going, but this will be Angelica's first time. Sunday will be a lazy day, with lots of swimming, I'm sure. Our heater has been out of gas since last weekend, and we finally got it filled today, so the pool is open once again!
What are you all up to this weekend? I hope it is great for all of you!
---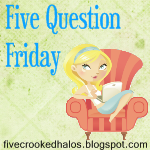 Now for some Friday blogging fun! If you would like to play along with 5QF, head over to
My Little Life
and link up!
1. Do you and your spouse go to bed at the same time?
We go to bed at the same time most nights during the week. He usually stays up on his computer until I'm done blogging, and then we watch a short show in bed before we go to sleep. On the weekends I usually fall asleep on the couch, and when he can't wake me up (
or gets yelled at for trying
) he will leave me there until I wake up on my own and go to bed, usually at some crazy hour of the morning.
2. A question for the ladies...What kind of facial hair do you like on your man?
None! Brian had a goatee and mustache for a while, and one day just shaved it off. I was thrilled!
3. What's the worst vacation you've ever taken?
Oh my gosh. I could write a book about this. It was
THAT
bad. I was probably 11 or 12 years old and we all piled into my grandparents' motor home to drive up to Massachusetts from Florida. It was my grandparents, my mom, my brother, my aunt, my cousin who was 3 or 4 at the time, and me. Are you cringing yet?
It started off pretty fun. We stopped at various campgrounds along the way. We got to swim in a pool that was so murky you couldn't see a foot down in it (
OMG what was my mother thinking???
), we got to play on different playgrounds and at one campground we even got to go trick or treating (
in July...weird
).
When we got to Massachusetts, my mom, brother and I were dropped off at my mom's father's house, which I remember not being happy about. For whatever reason, I hated being there (
I think I was just bored and wanted to be at the fun campground
) and I called my aunt several times and begged her to come pick me up. She didn't. Well, maybe she did after a few days. We did have some fun up there, though, like when we hiked up the mountain and everyone thought an animal was growling and it turned out to be an airplane.
On the way back we stopped at a campground with a playground. This particular playground had swings with lead pipes where you would normally see chains. I was pushing my cousin and at one point grabbed the pipes to either push her or stop her or something and they both crashed in to the sides of her head. My grandfather acted like I did it on purpose or something and started screaming at me, "
Are you trying to give her brain damage?
" That upset me so bad that I felt like crap the rest of the trip.
This is getting long, so I'll wrap it up. By the time we got back, everyone was beyond grumpy from being in such tight quarters with each other for the few weeks that we were. There was some kind of issue surrounding lunch at my grandparents' house after we got back, so my aunt made an excuse to leave and took me with her. We went through McDonald's drive thru and wolfed down cheeseburgers and fries in the car, and then hid the bag in her purse so no one would know.
It sure wasn't funny while we were experiencing it, but we have had a lot of good laughs reminiscing about this trip. We have appropriately dubbed it "
the trip from hell!
"
4. What's the first-ever blog you followed?
I honestly don't remember. I think it was probably Andrea's blog, but at the time, I don't think it was called
Angelica's Awesome Adventures
.
5. Do you enjoy amusement parks?
Hell yeah! I love them! Except for the lines, of course. Some of my best childhood memories are those of riding roller coasters with my dad. I will never forget those times!
---
Don't forget to stop back by after 10PM EST tonight for my
Weekend Win It
giveaway linky, where you will find some great giveaways to enter, and you can also promote yours! Come on over on Saturday for
Saturday Playdate
and meet a fabulous guest blogger. Then come back on Sunday for
Relax & Surf Sunday
, where you can link up your blog and hop around on your own terms, with no rules!