This week has been full of ups and downs. Unfortunately there were more downs than there were ups. I'm taking everything day by day. I just miss my Dad so much. I think about him all the time. Wednesday was the anniversary of my Grandmother's passing, so that day was even tougher on me and my mom. April is going to be a rough month for our family, for sure. Yesterday was our anniversary, so we were able to reminisce about some happy memories at least.
We have a fun weekend planned and hopefully we will all be able to enjoy it. I'll be spending most of today at the salon. I'm going in for my usual color and highlights, and I'm also getting another Keratin treatment. The curls are back and I'm killing my hair with the flat iron, so hopefully I'll be able to give it a break for a while after today. On Saturday we're taking the kids to see the Easter bunny. I'm sure Bryce won't go near him, but Rylie has already informed me that she will get a piece of candy for him too. (
What a sweet big sister!
) We'll have a little Easter egg hunt Sunday morning, and I'm sure the rest of the day will be spent in the pool. My kids are like little fish!
What is everyone else up to this weekend? I hope it will be a great one for you!
---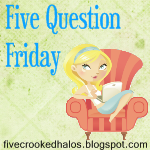 Now for some Friday blogging fun! If you would like to play along with 5QF, head over to
My Little Life
and link up!
1. What is your favorite Easter tradition?
We don't really have any Easter traditions. When my brother and I were little, my mom would hide eggs around the house with clues in them leading us to other eggs. At the end of the clues there was a big prize waiting for us. I would love to make this a tradition when my kids are a little older...it was so much fun!
2. Are you a "shower" or a "long, hot bath" kind of person?
Shower. I don't like the idea of sitting in dirty water. I do take long, hot baths occasionally, but then I shower off when I'm done. :-)
3. Can you parallel park and if so when is the last time you did it?
I can parallel park a small car, but the only way I can parallel park my big ole Armada is if there are a few spots open and I can pull straight in. I did this a few months ago, and then ended up stuck because some idiot pulled up too close behind me. Lucky for me, my truck has no problems going over curbs. :-)
4. What is your favorite Easter candy?
5. Easter: do you go all out with the Easter Bunny or focus on the religious part of the holiday?
I wouldn't say we go all out, but we don't focus on the religious part of the holiday since we aren't really religious. We will make a basket up for the kids and have a little egg hunt. I wanted to color eggs with Rylie this year, but there hasn't been time.
~*~Happy Easter!~*~
---
Don't forget to stop back by after 10PM EST tonight for my
Weekend Win It
giveaway linky, where you will find some great giveaways to enter, and you can also promote yours! Come on over on Saturday for
Saturday Playdate
and meet a fabulous guest blogger. Then come back on Sunday for
Relax & Surf Sunday
, where you can link up your blog and hop around on your own terms, with no rules!