TGIF!!! We have had a pretty uneventful week, except for the crazy thunderstorms we had the past couple of days. Those definitely weren't uneventful. The front section of my fence that is pretty much horizontal now is evidence of that. Ugh. It was raining so bad yesterday morning that I didn't know how we would even get in the car. Luckily Brian wasn't dressed for work when we left so he took the kids out to the car and got soaked so I didn't have to. Thank goodness we have a covered drop off at daycare!
What is everyone up to this weekend? We have a busy one planned. The in laws are coming tomorrow, and Rylie has a birthday party to go to, and then another one on Sunday. It will be a fun one, that's for sure.
Have a great Friday, my friends! And don't bother trying to pull any April Fool's jokes on me. I won't fall for them. :-)
---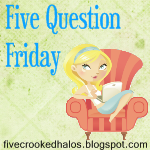 Now for some Friday blogging fun! If you would like to play along with 5QF, head over to
My Little Life
and link up!
1. Have you ever had surgery?
I have had two c-sections. Other than that, I have never been in the hospital. ::
knock on wood
::
2. Ever ride in an ambulance?
No. And I hope I never have to.
3. How are you in a medical emergency? Panicked? Calm?
The only real medical emergency I think I have been in was
Rylie's allergic reaction
on Christmas Eve. While I was panicked in my mind, I think I did a decent job of at least acting calm for her. Now, if it had been worse than it was, I don't think I could have remained calm. Just the thought of a medical emergency involving my kids sets off my anxiety like nothing else.
4. Do you have a garden? Flowers or veggies?
The closest thing to a garden I have are the two vases with fake flowers on the wall of our stair case. I have a brown thumb, big time.
5. When did you move out of your parents house?
In August of 1994. I was 19 years old and left to go to college at Florida State University. Go Noles! After two semesters there, two months at Air Force basic training and four months at tech school, I moved back in for a couple of months until I got an apartment with my best friend.
---
Don't forget to stop back by after 10PM EST tonight for my
Weekend Win It
giveaway linky, where you will find some great giveaways to enter, and you can also promote yours! Come on over on Saturday for
Saturday Playdate
and meet a fabulous guest blogger. Then come back on Sunday for
Relax & Surf Sunday
, where you can link up your blog and hop around on your own terms, with no rules!