Welcome to another fun Saturday Playdate! Today we're playing with Lisa from
Oh Boy, Oh Boy, Oh Boy
! Lisa's blog is one of those a-little-of-this-and-a-little-of-that blogs that I enjoy reading. She talks about family life with her three boys, parenting, events and has some reviews and giveaways too.
I hope you will check out Oh Boy, Oh Boy, Oh Boy when you're done here. Give Lisa some comment love and let her know you stopped by from the playdate.
---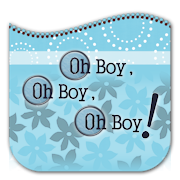 Thank you so much to LeeAnn, for letting me be part of Saturday Playdate. My name is Lisa and I blog at
Oh Boy Oh Boy Oh Boy
about anything and everything that pertains to my life as a full time working mom of three boys. Because my blog is sort of all over the place topic wise, because really, isn't life as a mom really kind of like that, its sometimes hard for me to pick a single topic for guest posts. For this post I went with something that other moms have looked to me for guidance on. Mind you, I am not an expert but I do have a few years of real world experience, so here are my thoughts on Raising a Reader.
I am a mom of boys. I am a mom of boys in a digital age. I am a mom of boys who read, even in a digital age. I am a mom of boys who read really well for their age, even in a digital age.
So even though I am not a reading expert, I don't have a degree in education, I am often looked to by other mom for some confirmation that they are doing things right. Unfortunately, I don't believe there is a magic formula. As in all things related to parenting, you can do all the right things but some kids just won't want to follow your lead.
But I can share what we've done. When my first son was born, I bought all the typical baby items, clothes, stroller, diapers, car seat, etc. but I also started buying books. I have a love of children's book so I had a pretty decent collection before he was even born. I bought colorful board books in all sizes and topics from colors and moods to animals and trucks. I bought lift a flap books and texture books and bath books. And I also began a collection of Disney, Dr Seuss and other great books that I loved in my own childhood.
Then when he got just big enough to sit up and even look at a book, I began to read to him. When he was just a couple months old, I was pregnant again and sitting and reading to him was the easiest thing to do. But it was also something he really enjoyed. Snuggling up in our big recliner and reading. I guess I should really say 'looking' at books as opposed to reading them. We had fun with books. We talked about the pictures. I made up stories and read sometimes when he was really being patient enough to sit through the story. He learned many animals by spending hours with one book full of animals that we'd look at, tell the names of and make the sounds they made. Books were FUN!
I constantly bought new books, often from the dollar store. There were books that he was allowed to really look at himself, a full shelf of them and then the nicer books were up higher and to be shared with mom. Books were special.
Many things have changed in our life over the years but books have been a constant daily thing. Even on the busiest day we have read together as a family. Each night each of the boys picks out a book and we read them out loud. I am still constantly buying books as their interests change. We still have many board books but now we have Junie B Jones, Diary of a Wimpy Kid, GooseBumps and lots of sports related books.
Eight years later I have strong readers. My oldest son tested above an 8th grade reading level before the end of first grade. And my middle son is testing about two full grade levels ahead right now.
While there are definitely real hurdles some kids face in learning to read, the biggest and most common is simply getting enough practice. If you start early instilling a true love of reading, it won't be a chore to get your kids to read and if you keep them supplied with things they love, they will keep reading. Thanks to the high volume of online reviews for so many things now, it's becoming easier and easier to find books for your kids to meet their interests. Before you spend a ton of money, don't forget to check out your local library to see if a particular series is a hit with your kids.
If your kids hit a phase where they don't pick up a book for a bit, here are a few tricks you might consider:
family reading time. Take time where everyone reads either together or each their own book but all at the same time.
library reading programs. Many local libraries reward kids for reading a certain number of pages or minutes a day or week.
try and eReader. Even though my boys love to read, there is always extra interest in reading an eBook on my smart phone.
encourage your child to read a book before watching the movie based on the book. My oldest finished 3 of the Diary of a Wimpy Kid books before the first movie came out when I encouraged him to work on the series before the movie hit theaters.
While there aren't any guarantees, it can never hurt if we set up an atmosphere that fosters a love of reading from the very beginning to help our chances of having strong readers.
---
Thanks for stopping by for our playdate! I hope you had fun! If you would like to come over for a playdate, let me know in a comment or an email.