TGIF! It has been a busy, but uneventful week for us. Well, that is if you count
Rylie's nuptials
as being uneventful. LOL
How do you like the new look over here? I wanted to clean it up and not have so much "junk" in the sidebars. I still have some tweaking to do, but that is low priority at the moment. I also need to get my pages at the top done one of these days. It's on my list.
What's on the agenda for this weekend? Tomorrow I'm going to a baby shower. Unfortunately the mommy-to-be is on hospital bed rest until birth, so the shower is actually at the hospital. I'm sure we'll have a good time, but I just feel bad for my friend that she has to be there. Hopefully that baby of hers will stay put for a couple more weeks, though, and grow like she needs to. The rest of the weekend is pretty much free at this point. Maybe, just maybe, I will be able to see my dining room table by the end of the weekend. Would you believe that there are still presents from Rylie's birthday on it?!?!?
Have a great weekend, my friends!
---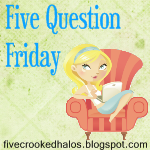 Now for some Friday blogging fun! If you would like to play along with 5QF, head over to
My Little Life
and link up!
1. Have you ever forgotten your child in a store or at school?
God no. I never say "never", but I don't see how that could ever happen with me. Since the day Rylie was born, I have always had this fear that I am going to leave the kids in their car seats and go to work or whatever. I have no idea WHY I think that, but I still check the back seat
every single time
I get out of the car.
Yes, I have issues.
I am ridiculously paranoid about always having my eyes on my kids, so I don't think I could ever forget them in a store. OK, maybe I'll forget them when they are older...but that just may be intentional.
2. Where did you go on your very first date? (Like...first first, not first with your spouse or current significant other!)
I honestly cannot answer this question. Weird. I usually have a great memory, but I have no recollection of my first "date". If I had to guess, I would say that I went to his house to watch a movie. But that is just a guess. Apparently I have blocked it out.
3. What's your "silly" fear? (We're not talking water and heights.)
See question #1. There is also my fear of cancer. Every time I have any kind of "ailment", I automatically think it is cancer.
Really, I know I have issues.
4. Confrontation: do you cause it, deal with is as it comes, or run far far away?
I would like to say I deal with it as it comes, but I probably cause it too. For the most part, I can't keep my mouth shut, and I say what is on my mind. I really don't LIKE confrontation (remember, I'm a huge
cry baby
) but I certainly don't run away from it. Bring it on...just be prepared for my tears!
5. Wood floors or carpet?
Eight years ago I would have said carpet, hands down. I just think it makes a home look more "homey". But as I look around at my eight year old carpet, now I say wood. Carpet is gross. Especially when you have pets and kids. I would really like to rip our carpet out and put wood floors in one of these days. Hmmm, I wonder if any flooring companies would like a blog review? ;-)
---
Don't forget to stop back by after 10PM EST tonight for my
Weekend Win It
giveaway linky, where you will find some great giveaways to enter, and you can also promote yours! Come on over on Saturday for
Saturday Playdate
and meet a fabulous guest blogger. Then come back on Sunday for
Relax & Surf Sunday
, where you can link up your blog and hop around on your own terms, with no rules!