Yay! It's Friday! We have had a great week this week. The weather here in sunny Florida is absolutely wonderful!
What is everyone up to this weekend? Brian is going to a big car race a couple hours away on Saturday, so I'll be home with my two little "angels" all day. Please, someone say a prayer for me. Or maybe even for them. On Sunday we're going to celebrate one of Rylie's friend's birthdays, and she is super excited about that. Ethan is one of her friends from her old school who she doesn't see that often, but she always asks when she can play with him again. And then there's my dining room table...which I'm still trying to get cleaned off. Sigh.
Have a great day, my friends!
---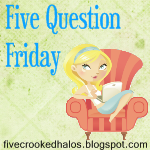 Now for some Friday blogging fun! If you would like to play along with 5QF, head over to
My Little Life
and link up!
1. Have you ever testified in court? For what?
No. I generally don't hang out with criminals, and I'm not awesome enough to ever be an expert witness for anything.
2. Do you still have your wedding dress?
Yes. It is in the closet in our guest room, in the same condition it was in when I took it off after our reception. I never have really inspected it to see how much damage was done.
3. Is there a special place you like to go when you're happy, sad, stressed, etc.?
Not really. And good thing, too, because I would probably go there a lot, and then who would take care of my kids?
4. If you have kids, do they sleep with you? If you don't have kids...will you let your kids sleep with you when/if you have them?
I do not make it a habit of letting my kids sleep with me. What you don't start, you don't have to stop. That said, if Rylie has a bad dream or is sick, I have no problem letting her sleep with us. I honestly love it when she sleeps with us, but I don't want it to happen regularly. I have brought Bryce in our bed a few times when he was awake screaming over an ear infection, but he just wants to play and I end up getting no sleep. Rylie did the same thing at that age, so hopefully he'll stop doing that soon.
5. Do you watch late night TV?
Most of the TV I watch can be considered "late night TV", I guess, since I don't usually get to watch TV until 11 or so. As far as the "real" late night shows go, no, I do not.
---
Don't forget to stop back by after 10PM EST tonight for my
Weekend Win It
giveaway linky, where you will find some great giveaways to enter, and you can also promote yours! Come on over on Saturday for
Saturday Playdate
and meet a fabulous guest blogger. Then come back on Sunday for
Relax & Surf Sunday
, where you can link up your blog and hop around on your own terms, with no rules!