Happy Friday! Well that week just zoomed on by. Since it is my busiest time of the month at work, and I knew I was going to be out for Bryce's surgery yesterday and off today, I was busting my butt to get everything done that I needed to at work. Our evenings always fly by, so that wasn't anything different. Bryce's surgery went well, and there were no major catastrophes this week, so I'll consider that a good week!
I'm down to one kid right now since Mama and Papa took Rylie off for another fun weekend at their house. Hopefully it will give Bryce the opportunity to rest today to really recover from his surgery. And then tomorrow I'm off for a little fun with my BFF. She lives two hours away, and unfortunately we don't get to see each other all that much. We have been planning this weekend for a while, and I'm looking forward to it. I'll pick Rylie up at my parents' house Sunday morning, stop by and see my other BFF for a while, and then head home. I have a feeling my weekend will zoom by faster than my week did.
What is everyone else up to? I hope you all have a wonderful weekend!
---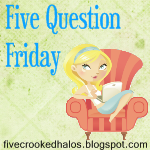 Now for some Friday blogging fun! If you would like to play along with 5QF, head over to
My Little Life
and link up!
1. Do you know what your REAL hair color is?
Do you mean before the grays started coming in? If that's the case, then it is dark brown. It hasn't been that color in quite some time, though. Several years ago I tried going back to my "real" hair color and people HATED it. Everyone said it was too dark. So I lightened it back up and still get highlights every 5 weeks.
Nowadays, though, my REAL hair color is mostly gray. If I didn't color it, I'm afraid people might think I'm Rylie and Bryce's grandma.
2. Do you plan ahead for summer, or fly by the seat of your pants?
I suppose this question is more for people with kids in school. Summer here is no different than any other season. We work, go to daycare, etc. Sure, we may be outside a little more than we are during the winter, but that is about all that changes.
3. What is your favorite meal to cook?
Dessert. That's a meal, right?
4. Do you get offended by not receiving thank yous?
No. And honestly, I wish people wouldn't make such a big deal about receiving them for certain occasions. I will never understand why a simple "thank you" to someone when you receive something isn't good enough. Just because I sit down and spend two hours cranking out thank you notes after my kid's birthday doesn't mean I'm any more grateful for the gifts they got. In fact, it doesn't really mean I'm grateful at all, it just means that I know it is expected so I wrote it. KWIM? There are times when someone does something out-of-this-world-awesome for me and I feel compelled to write them a nice note, or possibly send them a little token of my appreciation, and that, to me, is when the thank yous really count. I really don't mean to sound ungrateful (
I'm sure there are several people shaking their heads at this right now and probably vowing to never buy my kids a gift ever again
), and I think I'm one of the most appreciative people I know, but a forced thank you note doesn't mean anything. At least not to me it doesn't. I think next time I'll buy the pre-printed ones that say "Thank you for the __________________________. It meant a lot to me!" What's the difference, really?
I had a great aunt that used to require thank you cards for every single thing she gave you. I didn't write her a thank you card after my birthday one year and I never got a gift again. Nope. Never.
5. How did you meet your best friend?
I have two awesome best friends - Melissa and Rebecca.
I met Melissa in middle school. We'll just say that was a LONG time ago. Of course, just like most teenage girls, we were off-and-on friends all through high school. We lost touch after we graduated, and several years later she sent me a message on Classmates.com. We picked right up like we had never lost touch, and have been tight ever since.
I met Rebecca when I was 14 and decided I wanted to earn a living shoveling horse crap at a stable. I thought she was so cool because she had her own horse! We started going for rides together (I could use some of my "pay" to ride the owner's horses) and we quickly became great friends.
These are my two friends that I know will be there for me for ANYTHING, and I for them. We can go days, or even weeks, without talking, and then pick right up where we left off. I love you girls!
---
Don't forget to stop back by after 10PM EST tonight for my
Weekend Win It
giveaway linky, where you will find some great giveaways to enter, and you can also promote yours! Come on over on Saturday for
Saturday Playdate
and meet a fabulous guest blogger. Then come back on Sunday for
Relax & Surf Sunday
, where you can link up your blog and hop around on your own terms, with no rules!