Happy Friday my friends! We have had a pretty great week around here...finally! I think that
dark cloud
is lifting. Other than the
ear stuff
with the kids, everything this week has been good.
My dad is starting to feel a little bit better. And get this...after smoking for well over 50 years, he quit! It has been over a week now. I was absolutely shocked when he told me, but I am so happy! His breathing got so bad that it was either his lungs, or his cigarettes, and he chose his lungs. I am really proud of him because I know from experience how hard that is!
Shadow had his teeth cleaned yesterday. I was really worried about him going under the anesthesia since he is old and he had lost so much weight from not eating, but he did great. We thought they were going to have to pull some teeth, but two actually just fell out while they were cleaning them, so that was it. I guess he had a lot of bacteria and inflammation in his mouth, so they got it all cleaned up and he should be feeling much better soon. Poor cat. I take Morgan today for a re-check to see if he has any more fluid on his lungs. He has been taking his meds and seems to be doing well, so hopefully we'll get good news.
Rylie is still having her weird sleep talking episodes every night, and one night she actually got up out of bed and ran down the hallway. Ugh. Since her room is upstairs, we have been closing the gate at the top of the stairs so she doesn't take a tumble down them. I talked to her pediatrician about it when I took her in for her follow up earlier this week and she says it happens to a lot of three year olds. Hopefully this phase will pass soon!
So that's that. Things are getting better around here. I hate complaining about everything, but it just seemed like a lot happened all at once. All in all, though, my life is great, and I need to just focus on the good!
---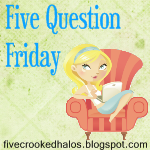 Now for some Friday blogging fun! If you would like to play along with 5QF, head over to
My Little Life
and link up!
1. Can you drive a stick shift?
Well I
CAN
, I guess. I mean, I know the mechanisms of how to do it, but I have never been that good at it. Brian used to have a Trans Am that was a stick. When he moved in with me I had to drive it to our apartment from his old house because he drove his motorcycle. I didn't stall it all the way home until I pulled into the driveway. I was so excited at how well I did that I forgot how to stop!
Oh, and then there was the time I was driving this big ole 2 1/2 ton military truck (aka deuce and a half). I didn't want to stop at a yellow light because I hated starting back up, so I sped up. Well, I turned too fast and the steering kind of got away from me and I hit a road sign with the mirror. Good times!
So yeah, I prefer automatics.
2. What are two foods you just can't eat?
Me? Not be able to eat food? Ha! I'm like a bottomless pit! There are a few things I don't like, though, so I'll go with Spam and mushrooms for the purpose of this question. Gross and gross. What the hell is Spam, anyway? (
I honestly don't even know why I thought of that...I was just thinking of gross food and it popped into my head.
)
3. Do you buy Girl Scout Cookies? What is your favorite kind?
Yes! Who doesn't? Although I haven't gotten any this year. Someone bring me some!
My favorite kind is the Samoas. I think they may be called Caramel Delights or something like that now? YUM!
4. How do you pamper yourself?
Pedicures. Every two weeks. That's about all I can afford these days.
5. What is your nickname and how did you get it?
I actually have two. My dad's nickname for me is "Two Shoes". When I was little I had gone shopping with my mom. When we got home my dad asked me what I got and I said "two shoes!" He would always try to embarrass me at my dance recitals and yell that out when it got quiet.
My other nickname is "Leela". When I was little and would say my full name, that is how I said the first part of it. Most of my family calls me that. In fact, my two oldest cousins didn't even realize my name was LeeAnn until they were older.
---
Don't forget to stop back by after 10PM EST tonight for my
Weekend Win It
giveaway linky, where you will find some great giveaways to enter, and you can also promote yours! Come on over on Saturday for
Saturday Playdate
and meet a fabulous guest blogger. Then come back on Sunday for
Relax & Surf Sunday
, where you can link up your blog and hop around on your own terms, with no rules!