TGIF! I'm so happy to say that we've had a decent week around here. I finally feel like that
dark cloud
is lifting just a little bit! My dad is out of the hospital and seems to be feeling better. Morgan is taking his medicine (thank goodness for
Pill Pockets
!!!) so hopefully he will be OK for a while. The kids are a little snotty right now, but seem to be feeling great otherwise. Rylie is still having her weird sleep talking episodes, but at least she isn't waking up in a full blown panic anymore. She just says a bunch of weird crap and then eventually goes back to sleep. So yeah, no crises to report this week! Yay!
What is everyone up to this weekend? We're going to Payten's birthday party on Saturday, and Rylie is super excited about that! On Sunday my parents are coming up so we can celebrate their birthdays.
I see more cupcake making in our future.
It should be a nice weekend weather-wise too, with temperatures in the 80s. This is the time of year I LOVE being a Floridian!
---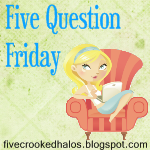 Now for some Friday blogging fun! If you would like to play along with 5QF, head over to
My Little Life
and link up!
1. Have you worn the same outfit more than one day in a row?
If you mean not washed, then ewwwwww, no. But since my wardrobe is very limited these days, I have been known to wear something on Friday, wash it Friday night, and then wear it again on Saturday. I seriously need some new clothes!
2. If you had to choose any LARGE city to live in, which would it be?
Charlotte, NC. Is that large enough? I have always wanted to live in NC.
3. Fly or drive with the kids on vacation?
Depends. If the drive is less than 8 hours I say drive. But any longer than that and I might just run my car off the road!
4. What is your idea of "spring cleaning"?
Opening the sliding glass doors to get some fresh air in the house. Yeah, I don't really clean. LOL
5. What is the best book you have ever read?
It has been so long since I have read a book (one that isn't full of pictures, that is) that I honestly have no clue. I really enjoyed reading Steven King's Misery. I just remember that it actually scared me to read some parts of it. That chick was nuts!
---
Don't forget to stop back by after 10PM EST tonight for my
Weekend Win It
giveaway linky, where you will find some great giveaways to enter, and you can also promote yours! Come on over on Saturday for
Saturday Playdate
and meet a fabulous guest blogger. Then come back on Sunday for
Relax & Surf Sunday
, where you can link up your blog and hop around on your own terms, with no rules!