Happy Friday! It has been another depressing week around here. Ugh. I swear, when it rains, it pours. My dad has been in the hospital since early Wednesday morning. He was having a hard time breathing, so my mom took him to the ER. He has COPD, but now has pneumonia on top of it, so they are giving him steroids and oxygen so he can breathe better. We're hoping he gets out today.
Rylie came back home Wednesday night from her fun visit to Mama and Papa's house. Well, it was fun until her Papa had to go to the hospital. She isn't sleeping well due to her recurring
nightmares
, but since she has been home, at least she hasn't woken up in a panic again. I don't know what is going on, but I sure hope it ends soon. I feel so bad for her. No three year old should have to be afraid to go to sleep.
I'm off work today, thank goodness! The cats are at the vet getting their annual check ups, and Shadow is getting a much needed bath. I'm
hoping
to have a relaxing day today. We don't have any concrete plans for this weekend, but my good friend
Colleen
and her family will be in Orlando this weekend, and I'm looking forward to hanging out with them at some point. Other than that, it is just the usual chores this weekend.
---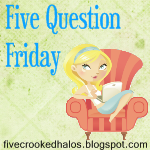 Now for some Friday blogging fun! If you would like to play along with 5QF, head over to
My Little Life
and link up!
1. Would you rather be on ABC's Extreme Home MakeOver or TLC's What not to Wear?
Well I could probably stand to be on both shows, but since we get to choose, I'll take Extreme Home MakeOver. First, I think I would have them convert our game room into another master bedroom so we can move upstairs to be closer to the kids.
Running up the stairs in the middle of the night when your kid has a nightmare is getting old.
Then I guess we could make our current master bedroom into an office/storage room. I can't get over how much we have accumulated since our kids were born! We need more space! I'd also like a third car garage and a bigger driveway while we're at it. :-)
2. Do you have any tattoos?
Nope. I'm not a fan. Plus, tattoos are painful, right?
3. Do you tell your kids about things you did growing up?
I'm sure I will. If for no other reason than to try to teach them a lesson about what NOT to do. Wait, we are talking about the bad things we did, right? If we're talking about the good things, then of course I will!
4. If the traffic signal turns yellow, do you stop or speed up?
It depends. If it is a long light on a major road, I have to admit that I usually speed up. If it is a more residential road, or if there are people out walking, I stop. If the kids are in the car, I definitely stop. I tend to drive much more cautiously when they are in the car.
5. What's your preference: chocolate or chips?
Can I have both? How about some chocolate covered potato chips? YUM!
---
Don't forget to stop back by after 10PM EST tonight for my
Weekend Win It
giveaway linky, where you will find some great giveaways to enter, and you can also promote yours! Come on over on Saturday for
Saturday Playdate
and meet a fabulous guest blogger. Then come back on Sunday for
Relax & Surf Sunday
, where you can link up your blog and hop around on your own terms, with no rules!