Welcome to another fun Saturday Playdate! Today we're playing with Gina from
The Ish Blog
. "Ish" is the nickname of Gina's adorable little boy, who is the subject of her blog. She writes about all of their fun family adventures, and I always look forward to seeing a cute picture or two on Wordless Wednesday. I just recently found out that Ish will soon have a baby brother, so a huge Congratulations goes out to Gina and her family! Now she will get to have double the fun, like I do! :-)
When you're done here, stop by Gina's blog and check it out. Leave a comment and let her know you stopped by from the Playdate.
---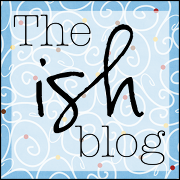 Hi everyone! I'd like to thank LeeAnn for inviting me over for a Saturday Play Date!
My name is Gina. I write a blog called
The Ish Blog
- all about life with my toddler son Matthew, who we call Ish. My husband came up with the nickname when we found out I was pregnant - not knowing if we were having a he or a she we wanted to give the little bean a gender neutral nickname that we could call him/her. My husband suggested "Ish" - and it stuck! Even after we found out he was a he, we still continued on with the nickname - and we still use it today!
Ish turned 2 this past September and we are entering a whole new toddlerhood phase - his vocabulary is off the charts (which is a good and bad thing!) and we are starting the daunting process of potty training. We are also planning to convert his nursery into a big boy room soon - as we will need his nursery furniture for his little brother Noah - due to join us in late April.
Life with Ish is crazy fun. He has such a great little personality and is truly a joy to be around. He loves to laugh and play and hug and kiss - and he always says "sweet dreams" to us as we tuck him into bed at night. We love taking him on little adventures through our sleepy little suburb in NY - from farmer's markets to local town fairs. This is a rare shot of me and Ish together (I'm always the photographer!) and it's one of my favorites:
I hope you'll come visit us over at the blog. I try to blog at least once a week and I always have a ton of pictures to show off! And I have a feeling once Noah gets here I'll be begging and pleading for advice from other moms of 2!
Have a great Saturday!
---
Thanks for stopping by for our playdate! I hope you had fun! If you would like to come over for a playdate, let me know in a comment or an email.