Happy Friday! This week sure has been a long week! It took us a while to get back to "real life" after our vacation, so the week didn't start off that well. It is finishing up a lot better, though. It stinks that my first week back to work was a 5 day work week, so unfortunately I'm working today. I sure would rather be home!
We don't really have anything planned for this weekend. I need to get everything ready for Rylie's birthday party next weekend. I still need some decorations and favors. Oh, and now apparently I need to find a cake that doesn't come with allergy warnings. Ugh. (More on that later.) I just can't believe my baby girl is going to be three in ONE WEEK! Nuts!
I hope everyone had a great week this week!
---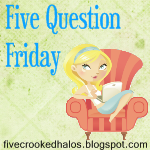 Now for some Friday blogging fun! If you would like to play along with 5QF, head over to
My Little Life
and link up!
1. What is your current favorite book, and why?
Hahahahaha. Favorite book? Yeah, like I have time to read.
2. Do you go to the dentist regularly?
Yes. Unfortunately I have to. When we moved over here I found a new dentist and it turned out that I needed a lot of work done. It felt like I was in his office every month for about a year. I have a filling or crown on just about every tooth. And yes, I brush my teeth at least twice a day, so it isn't my lack of care that is causing it. I blame it on genetics...thanks, mom! ;-) Aside from all the work I was having done, I was going for cleanings every three months. I just recently graduated to four months.
The one good thing about going to the dentist is the laughing gas! heeheehee For some reason I started getting horrible anxiety whenever I had to see the dentist, so now when I get a filling or a crown, he gives me the good stuff.
3. What is your worst memory from High School?
There are way too many to write. I honestly hated high school. But I guess the worst (or at least the one that popped into my head first when I read this question) was when I found out a certain nickname I had been given by some (at the time) ex-friends for a physical imperfection I had. It hurt me so bad. And no, I'm not going to tell you all what it was. It really isn't all that bad, but it is embarrassing nonetheless.
4. What do you hope to be remembered for in your life?
This blog! LOL I don't know. I would like for my kids to always remember me as a loving, and dedicated mother. Other than that, I don't know that there is anything I would be remembered for anyway.
5. Are you superstitious or do you have any superstitions?
Eh, not so much.
---
Don't forget to stop back by after 10PM EST tonight for my
Weekend Win It
giveaway linky, where you will find some great giveaways to enter, and you can also promote yours! Come on over on Saturday for
Saturday Playdate
and meet a fabulous guest blogger. Then come back on Sunday for
Relax & Surf Sunday
, where you can link up your blog and hop around on your own terms, with no rules!