Yay! It's Friday! And it's an off Friday for me, so that makes it even better. This week started off pretty horribly with my sweet Rylie having to go through some
medical tests
, but everything turned out OK and the week got better as it went on. Thank goodness! We actually had a pretty good week. Rylie was in an exceptionally good mood this week, and our mornings went by with no crying at school and our evenings have been fun. Bryce is teething something fierce and tries to bite everything he comes into contact with, but he has managed to stay in a pretty good mood too, considering.
So what is everyone up to this weekend? Today I'm having lunch with a friend at one of my favorite restaurants. It has been long overdue and I'm looking forward to catching up with her. On Saturday Rylie and I are going to Disney World! One of my good friends used to work there and has some passes that expire soon, so she invited a few of us to spend the day there with her. Rylie LOVES Disney World (she keeps saying we're going to the Mickey Mouse Clubhouse LOL) so I know we will have a fabulous day. Sunday will be a day of rest, or at least as much of a day of rest as it can be with two toddlers.
I hope you all have a wonderful weekend!!!
---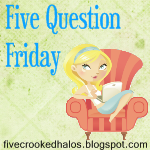 Now for some Friday blogging fun! If you would like to play along with 5QF, head over to
My Little Life
and link up!
1. If you had $1,000 to donate to a charity, which would you choose?
Hmmmm. This is hard. There are so many worthwhile causes out there. I would probably go with
March of Dimes
. Luckily my pregnancies were uneventful for the most part and my kids were born healthy, but that isn't always the case. All babies deserve a fighting chance and the March of Dimes can give them that. With all of the advances in medicine, even babies born severely premature can go on to lead normal lives, and I am happy to support any organization that helps babies in any way.
2. Snow days: Do you welcome them happily or are they a pain in your butt?
What are snow days? LOL We don't get those here in Central Florida. But if I lived up north where it did snow, I'm sure I would welcome them. I would much rather stay cooped up in the house than deal with shoveling my car out of the snow and driving on icy roads.
3. What talent did you wish you had and why?
I have never really wished I had a talent. I used to dance, I played sports, and I have done most things I wanted to do. These days I wish I was a whiz at blog design like my friend Colleen at
Shibley Smiles
. I would love to make this blog look nicer and maybe change it up every now and then, but sadly, I am a total dummy when it comes to that stuff.
4. Are you a news, politics or celebrity gossip junkie?
No. I used to like celebrity gossip, but I don't have time for that these days. I do like to have the news on in the morning while I'm getting ready for work, just so I know what is going on in the world, but that is the extent of my news, politics and celebrity gossip.
5. What is your favorite "cocktail"? (Are you a beer person, a kiddie cocktail junkie, or perhaps your more the "Cosmo" kind?! Anything flies...doesn't hafta be alcoholic!)
Mojito! Yum! (Only if it is made correctly, though.)
---
Don't forget to stop back by after 10PM EST tonight for my
Weekend Win It
giveaway linky, where you will find some great giveaways to enter, and you can also promote yours! Come on over on Saturday for
Saturday Playdate
and meet a fabulous guest blogger. Then come back on Sunday for
Relax & Surf Sunday
, where you can link up your blog and hop around on your own terms, with no rules!