Happy Friday! I'm working today, so it isn't as happy as it could be, but being that I was pretty much off all week last week and had to take off two days early this week, I won't complain. I'm lucky that my boss is so understanding.
So what's on the agenda for this weekend? We have no plans. Yay! I'm just glad that everyone is feeling better. I need to try to put away all of Rylie's new toys from her
birthday party
, but I need another few hundred square feet in my house first. :-) I think we'll just take it easy this weekend and chill out. We all deserve a nice relaxing weekend, that's for sure. It was so crazy last week and weekend, that I forgot to do Five Question Friday. So here goes...
---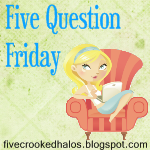 Now for some Friday blogging fun! If you would like to play along with 5QF, head over to
My Little Life
and link up!
1. Where did you meet your spouse and did you instantly know it was love?
I met Brian at work. It was my first "real job" after I got my degree, over 12 years ago.
It's kind of a long story, but no, I definitely did not know instantly it was love. In fact, I didn't even like him when I first met him. But he hung out in my circle of friends so I was forced to get to know him. It wasn't until after many softball games (we played on a co-ed team that I coached) and late nights out that I realized it was love.
2. What is your favorite room in your house?
My kids' rooms. They are the only rooms that are painted and decorated. They both have new carpet and just look so much nicer than the rest of the house.
I used to really love my front room/dining room. It was always clean, and it was decorated. We spent a lot of time hanging pictures and decorative accents to make that room look nice. Now it looks like Toys R Us threw up in my house as soon as you walk in the front door. Maybe one day I'll get that room back.
3. Can you wiggle your ears?
Um, no. And thank goodness no one is standing here watching me try.
4. What is your evening ritual?
I pick the kids up after work every day. Unfortunately, I work 9 hour days, so we don't get home until after 6 most nights. Brian usually has dinner ready by the time we get home. We eat dinner, the kids play for 15 minutes or so, and then we head upstairs to get them bathed, teeth brushed, jammies, etc. Bryce usually goes to bed pretty quickly afterwards, and Rylie gets to watch TV for a few minutes. (Yes, we kind of got into a bad habit over the holidays.) Both kids are usually asleep by 8:30. Then I either come upstairs to blog, or Brian and I watch TV for a little while. Our evenings are pretty hectic during the week.
5. How many hours of sleep do you need to function?
Well, I'm still functioning right now, right? At least I think I am. So the answer is...not many. I have been staying up way too late and only getting 4-5 hours of sleep most nights. I'm sure I would feel better if I got more, but that seems to be OK for now.
---
Don't forget to stop back by after 10PM EST tonight for my
Weekend Win It
giveaway linky, where you will find some great giveaways to enter, and you can also promote yours! Come on over on Saturday for
Saturday Playdate
and meet a fabulous guest blogger. Then come back on Sunday for
Relax & Surf Sunday
, where you can link up your blog and hop around on your own terms, with no rules!