Happy Saturday! I hope everyone is having a great weekend so far! I'm so glad that you stopped by for our playdate. Today's playdate is with Natalie from
Mommy Of a Monster (I Mean Toddler) & Infant Twins
. If you all have ever wanted to meet a super mom, now is your chance. For real. Natalie has 3 children under 3! And I thought my house was nuts.
So yeah, 3 under 3. But not for much longer. Her adorable little boy "Tater" is almost 3, and her beautiful twin girls "Ms. L" and "Ms. M" are almost 1. I have a feeling there will be some HUGE birthday parties in that house in August for many years to come. Stop by Natalie's blog sometime and say hey, and read about all of their fun times! I'm sure you will see exactly why she is, most definitely, a super mom!
I am loving Natalie's post and I am so glad she came over to play today! I am struggling with a lot of these same thoughts these days...
---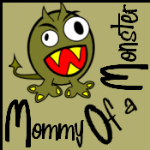 Firsts and Lasts
All three of my children were born during the month of August. In fact, the twins are 6 days short of being exactly 2 years younger than my son. So I am currently in the process of planning one huge birthday celebration for all three of them. My son, Tater, is going to turn three this year. The twins, Ms. L and Ms. M, are celebrating their first birthday. I can't believe how fast time flies.
As a mom, I look forward to lots of firsts: first smiles, first steps, first birthdays, first time jumping from the side of the pool alone, first day of kindergarten...the list goes on and on. What I didn't realize is that there would be lots of lasts, too.
During the last few months that I was pregnant with the twins, both of them were breach. So we knew that I was going to have to have a C-Section. My hubby and I made the decision that at the same time, we'd have the doctor go ahead and tie my tubes. That means that my pregnancy with the twins was my last pregnancy. Which at the time didn't bother me at all because being pregnant with twins was neither as fun or as easy as it was when I was pregnant with Tater! But after their arrival and when things settled down enough for me to think, I was kind of sad about never feeling the flutter of another baby inside me. Of never again experiencing the excitement of waiting to "meet" another child. Of seeing my child for the first time and falling instantly in love. That's when I realized that there were lots of "lasts" coming my way.
And over this past year, I've continued to experience sadness over other lasts. With each new first, also comes a last...do you know what I mean? When Ms. M rolled over for the first time, it was also the last time that one of my children would ever do that again for the first time. The first time that I got a smile from the twins was the last time I'd ever see a first smile again. Last first belly laugh. The last first time our children would sit up...crawl...take steps.
With each new "first" I keep thinking about it being the last time we'll experience it. I know there are a ton of firsts that we haven't even thought about yet, and I'm excited about all those firsts...well, maybe not all of them. I'm not excited about the first time Tater will talk back. I'm not excited about the kids doing stupid things that we told them not to do. But for the most part, the firsts are always exciting.
But the lasts? The lasts seem so sad! Even though I'm happy to see some of the lasts go (like getting up every couple of hours at night to feed babies), I'm going to miss those, too! I'll miss never breastfeeding again. Or teaching our children how to clap. How to play peek-a-boo.
While I bid adieu to each last first, I try to see the bright side. Even though it's many years away, I will experience the firsts again...with my grandchildren! And that thought brings a smile to my face and a flutter of anticipated, unconditional love to my heart.