Happy Friday from freezing cold Florida! I'm sure to some of you I sound like a wimp, but it is
COLD
here! I believe it got down past 40 degrees last night, and the high today is only 67. I can do the 67, but when the temps drop into the 40s here, that is a bit chilly for me!
So what is everyone up to this weekend? We didn't get any decorating done last weekend, other than getting
Mr. Grinch
out like Rylie requested, so that is our plan for this weekend. Well, Brian's plan, that is. He is going to decorate the outside of the house while Mama and I take the kids to
Reagan's
birthday party on Saturday. And then on Sunday we'll put the tree up. First, though, we have to move the kids' playroom out of the front room to make room for the tree, and I have NO CLUE where we are going to put all of those toys. That is a project in itself! My first task today, on this lovely off Friday, is to take a bunch of baby stuff to the resale store. At least I can get that stuff out of my house! That will make some room, and hopefully some money, for all the new toys Santa will be bringing this year. :-)
I hope everyone has a wonderful weekend!
---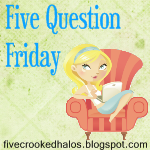 Now for some Friday blogging fun! If you would like to play along with 5QF, head over to
My Little Life
and link up!
1. What's on the top of your holiday wish list and why?!
A new phone! Santa brought me one last year, and believe it or not, it is already outdated. Brian recently downloaded an update for it, and it is not powerful to run the new update, apparently. First, my Facebook app wasn't working for well over a week, and I felt like I was so out of touch. Now it just locks up all the time. I can't tell you how many times I have wanted to just throw the damn thing and watch it shatter into little pieces. I guess I can't really say that is on my wish list, though, because I found out today that "Santa" already purchased my new phone. It should be here in a few days! YAY!
Other than that, there is really nothing else I want. Well, material items, that is. If I really had a "wish" list, I would probably wish for one of those professional organizers to come and declutter my house. It is really getting out of control around here! And while I'm at it, I would wish for an interior designer too. I want to get rid of my "primer white" walls, and actually decorate a little more. My dining room and the kids' rooms are decorated, but that is it. Any volunteers?
2. What is your favorite Christmas gift from the past?
"10 presents from the dollar store." What, you don't think 10 presents from the dollar store is an awesome gift? haha It wasn't the gift itself, but the memories that it brings when I think about it.
Brian and I celebrated our first Christmas together in 1999. I don't remember exactly how it came about, but I think I asked him what he was getting me for Christmas and he told me he would get me something from the dollar store. I was like "oh wow!", and then he said "no, I'm going to get you
TEN
things from the dollar store!" So for the whole month of December we joked about my ten presents from the dollar store. So on Christmas morning we exchanged our gifts. We actually bought each other a bunch of presents. It was just the two of us and it was so nice. You know, everything is so exciting when you're newly in love. When we were done opening presents he went into the bedroom and came out with this bag. Inside it was 10 different wrapped gifts from the dollar store. It was so funny! I feel so bad now that I don't remember what all of the gifts were, but I do remember there was a magnet with a monkey on it. Oh, and I think there was a turkey baster too. LOL
3. If you had life to do over, what would you be when you grow up?
RICH! Don't ask me how I would get that way, but that is what I would be.
Honestly, I probably wouldn't change anything. I like what I do. Sure, accounting isn't the most exciting career, but it is the right one for me.
4. When do you put up your tree?
Some time before Christmas. haha It is always my plan to put it up the weekend after Thanksgiving, but sometimes it doesn't work that way. Last year it got put up at about midnight the night before
Andrea
was coming over to take Christmas pictures of the kids. I wanted pictures of them in front of the tree. It turned out, though, that the tree wasn't even in the pictures really. Oh well, it gave us the incentive we needed to get it put up.
That was my favorite pic from last year. We had this year's pictures taken last weekend, and hopefully I'll be able to get them posted for your viewing pleasure some time this weekend.
5. What is your favorite Holiday?
CHRISTMAS
! I love everything about it! People are generally nicer this time of year.
Well, except for the ones that trample each other while they act like total idiots on Black Friday.
There is just so much happiness in the air. And I love to give gifts! I usually go overboard, but I can't help it.
---
Don't forget to stop back by after 10PM EST tonight for my
Weekend Win It
giveaway linky, where you will find some great giveaways to enter, and you can also promote yours! Come on over on Saturday for
Saturday Playdate
and meet a fabulous guest blogger. Then come back on Sunday for
Relax & Surf Sunday
, where you can link up your blog and hop around on your own terms, with no rules!