Yay! It's Friday! And I'm not working today, so that makes it even better! I'll be at the salon getting my greys covered this afternoon, but other than that, I'm just playing catch up.
It has been a great week this week! Rylie has gone three days with no crying when I drop her off at school! Maybe we are FINALLY over this two year long phase! ::
knocks on wood
:: We've had some nice evenings playing around, and the fussiness has been kept to a minimum this week. Ahhhh, it has been nice.
I am still WAY behind on my Christmas stuff. The tree is up, but still has no lights or decorations. My parents are coming Saturday to stay with the kids so that we can finish our Christmas shopping, and then Sunday we are going to see Santa and go to
ICE
with Uncle Danny and Krista. I have never been, but I heard it is awesome, so I'm really looking forward to that!
What is everyone else up to this weekend? I hope it is a great one!
---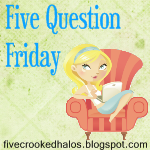 Now for some Friday blogging fun! If you would like to play along with 5QF, head over to
My Little Life
and link up!
1. Do you regift...and if so, do you have a regifting horror story?
No! I probably should, though, but I feel guilty doing it. I have a few duplicate gifts that the kids have received and everyone tells me to regift them, but I just can't.
2. Do you know what you are getting for Christmas this year?
Yeah. Nothing! LOL Now that we have kids, Brian and I don't usually get each other anything. We buy what we want throughout the year, so there really is nothing to get anyway. We both got new phones a couple weeks ago, so I guess those are our Christmas presents.
3. Who brings the most gifts in your family, you or Santa?
Santa brings all of the gifts. :-)
4. What store do you love to by jeans from?
GAP. They are pretty much the only ones that fit me decently. I have heard great things about some of the more expensive brands, but I just can't see myself paying $100 for a pair of jeans.
5. Christmas meal: Big, All Out Meal or Snacks and Apps?
This is kind of funny, since I am still unsure about Christmas dinner this year. I usually make lasagna (one regular and one chicken Alfredo) for Christmas, and we have salad and bread to go with it. Well this year, Brian's mom asked if she could bring a ham, and I said that would be OK. I'm not quite sure why I agreed to that, since honey ham doesn't really go well with lasagna. So it looks like we may be having more of a "traditional" Christmas dinner this year. I still have no idea what we're doing, though. I'll figure it out at the last minute, just like everything else. That seems to be the theme this year.
---
Don't forget to stop back by after 10PM EST tonight for my
Weekend Win It
giveaway linky, where you will find some great giveaways to enter, and you can also promote yours! Come on over on Saturday for
Saturday Playdate
and meet a fabulous guest blogger. Then come back on Sunday for
Relax & Surf Sunday
, where you can link up your blog and hop around on your own terms, with no rules!