TGIF! I'm working today, so I won't really be celebrating Friday until 5:30, but still, I'm glad it is here! We have GOT to put our Christmas tree up this weekend. When, though, I don't know. We have birthday parties on both Saturday and Sunday this weekend. Fun!
It has been another busy week! I feel like I have a million things on my to-do list, and none of them are getting done. Brian and I finally bought a few Christmas presents for the kids Wednesday night, but we still have more to get. Rylie had her 3 year photoshoot with
Andrea
last weekend, so now I need to get working on her party invitations. We have to go see Santa, too, even though I doubt Bryce is looking forward to that. haha Oh! And I still have to get my Christmas cards addressed and sent out. There is always something that needs to get done! Who else is going a million miles a minute this month?
---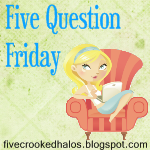 Now for some Friday blogging fun! If you would like to play along with 5QF, head over to
My Little Life
and link up!
1. Do you open presents on Christmas Eve or Christmas Day?
Christmas Day. When I was little we were usually allowed to open one present on Christmas Eve, and I will probably start that tradition with my family when the kids are a little older, but for now we open all presents on Christmas Day. Santa doesn't bring them until after the kids go to bed on Christmas Eve anyway, right?
2. What is your favorite Christmas cookie (or candy)?
Peanut Butter Balls! (
Some people call them buckeyes.
)
My mom and I have made peanut butter balls every year since I can remember. Unfortunately, though, she is making them without me this year. I just don't have the time. :-( It is ridiculously time consuming, and there is no way we can do that with two toddlers running around. We usually make 700 or so and give them to our friends for Christmas. I usually also make fudge to go along with them. Again, not happening this year. I think my New Year's resolution is going to be better time management during the holidays next year so I don't have to miss out on traditions.
3. What's the worst Christmas gift you've ever received?
I'll plead the fifth on this one. I don't want to hurt anyone's feelings. It is Christmas, you know.
4. Christmas song that you love?
Santa Claus is Coming To Town. Rylie and I started singing that last year, and we had to sing it every night before she went to bed, even after Christmas.
I also love I Saw Mommy Kissing Santa Claus. It just reminds me of when my dad used to come to the house dressed as Santa every year on Christmas Eve.
5. How many trees do you put up?
One! And I'm lucky if I even get that one up. LOL
---
Don't forget to stop back by after 10PM EST tonight for my
Weekend Win It
giveaway linky, where you will find some great giveaways to enter, and you can also promote yours! Come on over on Saturday for
Saturday Playdate
and meet a fabulous guest blogger. Then come back on Sunday for
Relax & Surf Sunday
, where you can link up your blog and hop around on your own terms, with no rules!