Happy Friday! I hope everyone had a great week. I haven't had the best week, but at least it has been quiet. And by quiet, I mean because I only had one kid this week. Rylie has been with Mama and Papa all week. I'll post more on that later, but she is having a great time! I miss her, though. I miss her little smile when I go in to wake her up in the mornings and how she just wants me to hold her until she really wakes up. I miss her excitement when I pick her up from school every day. And I miss goofing off in her room after bath time every night. I'll tell you what I don't miss, though...the back talk! And that is what I mean about quiet. :-) She comes home tomorrow night and I can't wait!!!
So what is everyone up to this weekend? I'm off today. I was supposed to be getting my hair done this morning, but my hairdresser's little girl is sick so my appointment was postponed. Man, I have way too many grays, but they'll just have to be there for a few more days. Now that the kids need "winter" clothes (haha...that just means pants in Florida) I think I'll check out the Circle of Friends sale at Gymboree. And of course there is housework to do...and laundry. That never ends. So other than picking Rylie up Saturday night, we really don't have any plans. It will be a nice break.
Oh yeah...and in case you missed my post last night, Bryce's picture is a finalist in a
photo contest
. How exciting! I'd love to have your vote!
---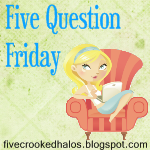 Now for some Friday blogging fun! If you would like to play along with 5QF, head over to
My Little Life
and link up!
1. If you could have any talent and turn it into an occupation, what would it be?
Hmmm. I honestly have no idea. Maybe an artist? I can't draw to save my life, though. But it would be cool to create masterpieces that other people would hang in their homes.
2. Would you rather have a house at the beach or a cabin in the woods?
The beach! I'm all about the sun and the surf. Well, except for the fact that I'm "allergic" to the sun and I am too scared to go in the water at the beach, unless I can see my feet. Ha! But I hate bugs. And snakes. And wild animals. I don't venture into the woods.
3. Is there any meaning or reasoning for the names you chose for your child/children?
For their first names - no. With both kids, we looked through the baby name books and wrote down all of the names we both liked. Then every day we would cross off one name until there was only one left. Rylie could have very well been Cassidy, and Bryce could have been Carter. We started with about 25 names when we were picking Rylie's name, but only about 5 with Bryce. Boy names are just harder.
Their middle names, however, came from my parents. Rylie's middle name is my mom's middle name, and Bryce's middle name is my dad's first name. Brian doesn't think that giving your child a middle name after someone constitutes naming your child after that person, but what does he know, right?
4. What is your guilty pleasure? (I know we've done this one before, but I'm guessing people's "guilty pleasures" change frequently. At least, mine do!)
Well, there's shopping. I love to shop for my kids! I just wish they would hurry up and get out of daycare so I would have more money to do so.
And then there's Edy's Double Fudge Brownie Ice Cream. It doesn't get much better than that!
5. Do you live in a house that is deep cleaned or straightened?
Neither. Right now my house is a disaster! I haven't been able to see my dining room table in weeks. I need to straighten. Big time! But it is clean. I don't know exactly what "deep cleaned" refers to, but I have no problem with my kids rolling around on the floor, and their bathrooms are always super clean. I have a cleaning lady that comes every other week. And good thing, too, because who knows what would be growing in the showers! LOL I get two full days with my kids. And on those days, we have FUN. Hey, a messy house is a happy house, right? :-D
---
Don't forget to stop back by after 10PM EST tonight for my
Weekend Win It
giveaway linky, where you will find some great giveaways to enter, and you can also promote yours! Come on over on Saturday for
Saturday Playdate
and meet a fabulous guest blogger. Then come back on Sunday for
Relax & Surf Sunday
, where you can link up your blog and hop around on your own terms, with no rules!