Happy Black Friday! Who has been out scouring the stores all night? Not me! In fact, where I am, I don't even know if there are any stores within a 30 mile radius. ;-) We drove down to Brian's mom's house in SW Florida for Thanksgiving. The drive was surprisingly great. The kids slept for most of the first two hours and then quietly watched their movie for the last hour. We had a great dinner and a nice time with family.
We're on our way home this morning. It looks like we're going to have to brave the mall later. UGH. We're having family pictures done at the beach tomorrow and I had this great idea that we would all wear white shirts and jeans. Well, the only white shirts I could find for all of us were thermal shirts, and when Brian and I tried them on the other night we looked like we had under shirts on. So we're going to attempt to find different shirts. Who knows, though...you may soon see pictures of us in our "under shirts". Luckily the kids are so darn cute that no one will pay attention to us.
I hope everyone had a wonderful Thanksgiving and has a great weekend ahead!
---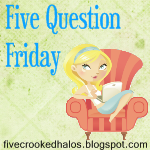 Now for some Friday blogging fun! If you would like to play along with 5QF, head over to
My Little Life
and link up!
1. What is your favorite part of a Thanksgiving meal?
I love the sides! Stuffing, mashed potatoes, sweet potatoes, corn casserole and even green bean casserole. But if I had to pick my ONE favorite, it would be
corn casserole
. Since we weren't at home this year, I brought all of the ingredients with me and made it when we got to Brian's mom's house. I can't have Thanksgiving without it.
Wait, should I have said something more profound like "being with family and reflecting on all that we're thankful for?" I like that too...but I love the food! :-D
2. Are you a host or a guest for Thanksgiving this year?
A guest! Thank goodness too! I typically don't like to host Thanksgiving dinner. I was just telling a friend yesterday that I don't know how to cook a turkey and I don't care to learn. It is just one of those things that if I never do, that is OK with me. So if you come to my house for Thanksgiving, please bring the turkey. If you don't, I'll be running out to Boston Market.
3. When you think of one Thanksgiving tradition, what comes to mind?
Hmmmm. I can't think of any Thanksgiving traditions that we have. And as much as I hate to "disrespect the turkey" and talk about Christmas in a Thanksgiving post, I guess I'll have to go with decorating. We usually decorate the outside of the house the weekend after Thanksgiving. We may get the tree up too, but that usually happens the next weekend.
4. You have two pieces of pie in front of you and you HAVE to eat one...do you choose pumpkin or pecan?
That's easy...pumpkin! Pecan pie is just gross.
5. Are you a Black Friday Shopper?
I used to be. You know, back in the day when Black Friday started at 5AM. But not anymore. First off, it starts at midnight (or even earlier now), and I'm just too damn tired for all of that nonsense. I'm too old for all-nighters.
Even though I don't consider myself a Black Friday shopper, last year Brian and I went to Toys R Us at around 10 to stand in line for their midnight opening. We went to get Rylie a Smores Pony. When we got there the line was already around the building. When we finally got in we got the little card for the pony and decided to look around for a few minutes. Then we had to stand in line for another 30 minutes just to pay. Yeah, we won't be doing that again. The Black Friday deals don't even seem all that fantastic anyway. All in all, it was worth it, though. Rylie sure did love her Smores Pony...
---
Don't forget to stop back by after 10PM EST tonight for my
Weekend Win It
giveaway linky, where you will find some great giveaways to enter, and you can also promote yours! Come on over on Saturday for
Saturday Playdate
and meet a fabulous guest blogger. Then come back on Sunday for
Relax & Surf Sunday
, where you can link up your blog and hop around on your own terms, with no rules!