Happy Friday! I don't know yet if it will be a happy one for me, but I'm hoping it will be. Bryce has had such a rough week. It started out with another ear infection over the weekend that caused a rough night, and had me feeling like I was
hit by a bus
. And then Tuesday afternoon I got the first "
fever call
" of the season from daycare and my poor little boy has been miserable ever since. His temperature topped out at 104.8 yesterday and had me so freaked out! His pediatrician wasn't worried about it, though, and we both think (at least I hope) it could be Roseola. He is sleeping peacefully as I'm typing this up on Thursday night, so hopefully he will have a better day on Friday.
At least I can give Bryce 100% of my attention over the weekend since Rylie decided she needed to go home with Mama Thursday night. Mama came over to take care of Bryce on Thursday but had to be back home for some appointments on Friday. I guess Rylie asked her if she could go with her and she told her that she could as long as I said it was OK. So Rylie came running in my room and excitedly asked me if she could go and I agreed. I think it is great that she loves my parents so much and wants to go with them, but I'm kind of sad that she was so excited to go and probably won't miss us much. LOL
We don't have any plans for this weekend, other than getting Bryce better. Hopefully we'll all get to relax some. What about you? What is everyone up to this weekend?
---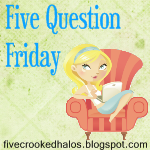 Now for some Friday blogging fun! If you would like to play along with 5QF, head over to
My Little Life
and link up!
1. What Christmas song do you loathe?
Silent Night. And before you all go beating me up, let me explain. It isn't really the song itself that I loathe, it is the countless times that I have heard it butchered. Trust me, I'm no Celine Dion and I know that. So I don't try to hit notes that I know I can't hit. Seriously, people, don't attempt to sing soprano when you're an alto.
2. Do you and your significant other cuddle at night or sleep on opposite sides of the bed?
Opposite sides of the bed. Some nights we start off cuddling, but Brian is like a portable heater, so it usually doesn't last long.
3. Have you ever had surgery?
Just my two c-sections. Oh, and I was put out to have my wisdom teeth extracted. Does that count?
4. When do you typically have your holiday shopping done?
Christmas Eve if I'm lucky. We usually have Christmas with my family in Alabama after Christmas, so I have been known to brave the mall the day after Christmas to grab another gift or two.
5. If money were not an issue (and you HAD to pick something), what would your ultimate luxury item be?
A fancy sports car! A Buggatti Veyron sounds nice. When I got pregnant with Rylie we traded in our Corvette for a more practical, 4-door car. Even though I didn't drive it often, I miss it. (But not near as much as Brian does!)
---
Don't forget to stop back by after 10PM EST tonight for my
Weekend Win It
giveaway linky, where you will find some great giveaways to enter, and you can also promote yours! Come on over on Saturday for
Saturday Playdate
and meet a fabulous guest blogger. Then come back on Sunday for
Relax & Surf Sunday
, where you can link up your blog and hop around on your own terms, with no rules!