Yay! It's Friday! It is also my darling husband's 40th birthday. (
Yes, he's old.
) Happy Birthday Brian!
We have quite a busy weekend planned. I'm working a half day today, so it isn't all that bad. Since my hair appointment got cancelled last Friday, I'm taking off a little early today to go get my grays covered up. It's getting bad! Mama and Papa will be up tonight to stay with the kids while we head to Universal on Saturday. In case you missed the post about the big
surprise party FAIL
, we're going to spend a fun ADULT day at Universal to celebrate Brian's birthday. And then on Sunday Rylie has a birthday party to go to, and then I *think* we have plans to hang out with Brian's dad for more birthday fun. What is everyone else up to this weekend?
While you're here, would you please vote for Bryce's picture in the UPrinting
photo contest
? Today is the last day to vote, so I really need those comments, tweets and Facebook Likes. Pretty please? I'll be your best friend. :-)
---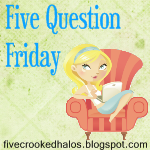 Now for some Friday blogging fun! If you would like to play along with 5QF, head over to
My Little Life
and link up!
1. What is the most physically painful thing that has ever happened to you?
My c-sections. Rylie's especially. I had gone through 16 hours of labor before they decided to do the section, so my body was already wore out. I have to say, though, that they weren't that bad. My recovery went very well with both of them.
2. How much sleep do you get at night?
Not near enough! Before I started blogging I used to get a good 7-8 hours of sleep a night. Now that I'm on the computer until all hours of the night, I usually get 4-5. Sigh.
3. How long did you believe in Santa Claus? How did you find out that he does not exist?
I don't really remember how old I was when I found out for sure that Santa wasn't real. Maybe 7 or 8? But I remember it vividly. My dad used to dress up as Santa every year and come knock on the door on Christmas Eve. He would come in and ask us if we had been good that year and we would proudly show him all of our good notes from school, report cards, etc. I guess my brother and I were getting wise to the fact that Daddy was never home when Santa came to visit, so that year he had his friend Monty dress up and come visit us. Well Monty smoked a pipe. That smell is very recognizable, even to a child. Also, Monty was tall and skinny, so it made matters worse when we saw the pillow sticking out from under his shirt. We knew in a moment, it wasn't Saint Nick.
4. What was the last movie you saw in a theater?
We haven't been to a movie theater in so long I actually had to ask Brian what the name of the movie was that we saw a year or so ago. It was "I Love You Man" with Paul Rudd and Jason Segel. We actually paid a babysitter and went out that night. Funny, because I just said to him last night that I would like to go see a movie again sometime. It has been way too long!
5. What do you wear to bed?
Jammie pants and a men's XXL t-shirt. Yes, it is huge on me. I'm all about comfort.
---
Don't forget to stop back by after 10PM EST tonight for my
Weekend Win It
giveaway linky, where you will find some great giveaways to enter, and you can also promote yours! Come on over on Saturday for
Saturday Playdate
and meet a fabulous guest blogger. Then come back on Sunday for
Relax & Surf Sunday
, where you can link up your blog and hop around on your own terms, with no rules!