Welcome to another fun Saturday Playdate! Today we're playing with Victoria from
Adventures in Mommyhood
. Victoria and I "met" on a local message board a while back, and even though we don't live that far from each other, we haven't actually met in person yet. I say
YET
, because that needs to change very soon!
Victoria has a great blog about her family. She is currently a SAHM to her adorable son Jake. You will always find a ton of pictures of that little cutie on her blog. Together with her husband Irwin, they always have so much fun! I love reading her posts about the cool things they do. Speaking of which, they are actually out of town for a destination birthday party for Jake. He is turning two this weekend! Happy Birthday Jake!!!
When you're done here, stop by and see all of the cuteness on her blog. Leave her a comment while you're there and give Jake some birthday wishes.
---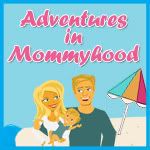 Hi Everyone!
I'd like to thank LeeAnn for inviting me over for a playdate, how fun! We have quite a bit in common, both being mommy obsessed bloggers in the Orlando area and our hubbies are both in IT! Plus her little ones are so super cute so that's reason enough alone to enjoy her blog!
Now allow me to introduce myself..
My name is Victoria, I'm 26, and am currently a stay at home mom, but will enter nursing school some time next year. I have already finished half of the program, I just have to get on the 1 year waiting list for the clinical portion which is an excellent opportunity to stay home with Jake meanwhile.
My husband is Irwin, a 34 year old Computer Network Engineer from Norway. My father's side of the family is also from Norway and that is where we met. (Want the long story of why I've lived all over the world? Click
here
then!)
On January 5th, 2008 we got married on the beautiful island of Key Biscayne, just off of Miami, Florida.
Then on October 24th, 2008, this little guy decided to join us:
Did you catch that date? October 24th... as in TOMORROW. Tomorrow my little boy is going to turn two years old. I just can't believe it, I really can't!
I'm currently sitting in a beautiful, cushy lounge chair somewhere in the Florida Keys writing this and reflecting over what a great two years it has been. We are having a big birthday bash in paradise this year in lieu of a birthday party at home and it's been a blast so far. I know I'm going to be an emotional wreck tomorrow though!
Jake's
birth
was obviously one of the greatest moments of my whole life and I know I'm going to relive it hour to hour. So I'd like to thank LeeAnn so much for giving me this playdate this weekend, it's such a special time for all of us and I'm so happy to share in it with all of you guys!
Please feel free to come on over anytime and let me know The Life of Rylie...and Bryce too! sent you, I love making new friends :)
---
Thanks for stopping by for our playdate! I hope you had fun! If you would like to come over for a playdate, let me know in a comment or an email. I'm currently scheduling playdates for November and December. I'd love to have you over to play!