Happy Friday everyone! Today starts my 4 day weekend, and what a busy weekend it is going to be! I'll probably be spending most of my day today trying to find a dress to wear to a wedding Sunday. No, I didn't manage to get that accomplished last weekend. Mama and Papa are taking Rylie to Sea World on Saturday, after what I'm sure will be another waste of a morning spent at the soccer field. Who knows, though. Rylie is always surprising me when I least expect it. On Sunday we'll be attending the wedding of a very sweet person who was like a second mom to Rylie the first year of her life. And then on Sunday night my family from Alabama will be here to go to Universal on Monday. Whew! I'll be back at work Tuesday before I know it!
What about you all? Does anyone have any fun planned for this weekend?
---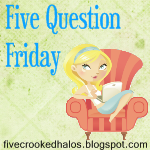 Now for some Friday blogging fun! If you would like to play along with 5QF, head over to
My Little Life
and link up!
1. What do you listen to while driving?
Sirius Satellite Radio. Hits 1 is my favorite station, but I also listen to a couple of the hip hop stations, the 80s, the 90s and a couple of the country stations. I have no desire to ever go back to regular radio again. I can't stand all of the talking and commercials.
2. What is your least favorite thing about Fall?
I can't really think of any part of fall I don't like. Well, if you can even call it "fall" here in central Florida. I guess my least favorite thing would be the temperature swings. It is pretty cool in the mornings and evenings, but gets HOT during the day. If you go out in pants and long sleeves in the morning, you'll end up sweating your butt off in the afternoon.
3. What does your dream house look like, inside and out?
Clean. With nice landscaping and a vinyl fence. I'm not asking for much, am I? But that currently is a dream because I have none of those things at the moment.
4. Would you ever own a minivan?
I won't say NEVER, but at the present time, the answer is no. I realize that minivans are great, especially when you have kids and big dogs to cart around, but I just can't do it. I think a certain stigma comes with owning a minivan, and I'm just not ready for that yet. For those of you that have them, it is fine if you point and laugh while I'm hoisting my kids up into my gigantic SUV and climbing over car seats just to sit in the back seat. I can take it.
5. Do you wash new clothes before wearing them?
Always! The thought of the places new clothes have been grosses me out. In fact, when I buy new clothes, I go for the ones at the back of the rack or the bottom of the pile, hoping that I get one that hasn't been handled too much. You just never know whose grubby hands have molested that shirt you just bought. Ewwww. Wash it first!
---
Don't forget to stop back by after 10PM EST tonight for my
Weekend Win It
giveaway linky, where you will find some great giveaways to enter, and you can also promote yours! Come on over on Saturday for
Saturday Playdate
and meet a fabulous guest blogger. Then come back on Sunday for
Relax & Surf Sunday
, where you can link up your blog and hop around on your own terms, with no rules!
Have a great weekend everyone!