TGIF! It has been another busy week, as usual. It was a good one, though. The Halloween festivities start today for the kids and we have all kinds of fun planned for the weekend! Rylie's class is having a pajama party at school today, complete with a parade and trick or treating. On Saturday we are heading over to
Tiffany's
for what is going to be an awesome Halloween party. And then Sunday we are going trick or treating at one of the local malls. Whew. Yeah, and I have to try to get some laundry and other chores done in between all of that. Good luck, right?
I hope everyone has a fabulous Friday! I'll be working today. Booooooo!
---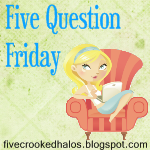 Now for some Friday blogging fun! If you would like to play along with 5QF, head over to
My Little Life
and link up!
1. If you could be a fly on any wall, which would you choose?
Oh I could think of a few instances when I would have loved to be a fly on the wall, but certainly not for an extended period of time. I think sometimes we're better off not knowing what people say behind closed doors. And that's all I'll say about that. :-P
2. Do you budget your Christmas shopping or just get it done without budgeting?
Budget? What is that? This is really sad, but I have never done well with budgets. Go figure, too, since I'm an accountant. If I did try to make a budget, the variance analysis on that would be scary!
3. What is the craziest fad diet you have ever done?
I don't think I have ever done a fad diet. I did the no carb thing before my wedding, if that counts. I didn't follow any certain diet, though. I just didn't eat carbs. I didn't eat much, actually. I was miserable and I will never do that again. However, I met my goal and I was skinny on my wedding day. It was worth it!
4. Is there a TV show that you have seen every episode/season of?
There are a bunch. Most shows that I watch I watch every episode of. I rarely get sick of something and stop watching. Well, except for Lost. Because I was, well, lost.
I honestly watch way too much TV to try to list them all for you. But a few of my favorites that I have watched from the beginning are Grey's, Private Practice, and Criminal Minds.
5. What one song always pulls at your heart?
I'm walking down wedding memory lane tonight for sure. These two songs always pull at my heart. Both of which were played at my wedding...one for our first dance, and one when I danced with my dad.
---
Don't forget to stop back by after 10PM EST tonight for my
Weekend Win It
giveaway linky, where you will find some great giveaways to enter, and you can also promote yours! Come on over on Saturday for
Saturday Playdate
and meet a fabulous guest blogger. Then come back on Sunday for
Relax & Surf Sunday
, where you can link up your blog and hop around on your own terms, with no rules!
Have a great weekend everyone! Happy Halloween!