Happy Friday! It has been a pretty good week around here. Bryce and I have had colds, but we're both starting to feel better. Rylie had a rough night Wednesday night, and last night when I looked outside I saw why...there was a full moon. It is really amazing to me how much that child seems to be affected by the moon. I'm telling you, whenever she really acts like a loon, the next night there is a full moon. Weird, right? But everyone had a good night last night and I'm sure we're all going to have a great day today. I know I am, since I'm not working. Yay!
I'm really looking forward to the weekend. We have two fall festivals to go to, and I know the kids will really enjoy those. I just wish it were a little cooler out. We still haven't gotten our "fall" yet. In fact, it is supposed to be 89 on Saturday! Welcome to sunny Florida, my friends.
---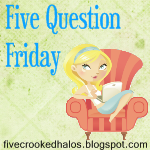 Now for some Friday blogging fun! If you would like to play along with 5QF, head over to
My Little Life
and link up!
1. Who is the better cook, you or your spouse?
Well, these days, Brian does most of the cooking, so I'm going to give him the credit and say that he is the better cook. I pick the kids up from school after my 9+ hour day at work, and he usually has dinner ready by the time we get home. Because if he doesn't, a certain little piggy goes a little nuts.
The meals around here are pretty simple these days. Brian and Rylie are somewhat picky with food, and we don't have time for complicated meals, so we usually rotate the same 5 dinners each week. We're always so busy on the weekends that we aren't often home for meals. But there was a time when Brian was quite the chef. When I was on maternity leave with Rylie, he would go to work early and come home around 4. This gave him time to make some pretty amazing dinners. My favorite was grilled pork chops with mango salsa. YUM!
2. How often do you talk to your mom?
Just about every day. My mom is awesome. She really is. She always wants to know how we're doing. Well, when I say "we", I mean Rylie and Bryce. I think my kids rank a little higher with her for some reason. ;-) I usually call her on my way home from work just to check in. If she isn't over here on the weekends, I usually call her at least one, if not both, days.
3. Are you adventurous in the kitchen or stick to the recipe?
Oh I stick to the recipe...always. I wish I could be one of those people that could just open the pantry, throw some things together and make a fabulous meal. Unfortunately, I can't.
4. Is your second toe longer than your big toe?
Yes! And Brian picks on me about it all the time. I heard something once that if it is you were good at math or something like that. It must be true.
5. Do you dress up for Halloween? (Bonus question: What will you be this year?)
Not usually. I did when I was a kid, but I think I have only dressed up once as an adult. I'm not against it or anything. I just haven't really had any opportunities to dress up, I guess.
---
Don't forget to stop back by after 10PM EST tonight for my
Weekend Win It
giveaway linky, where you will find some great giveaways to enter, and you can also promote yours! Come on over on Saturday for
Saturday Playdate
and meet a fabulous guest blogger. Then come back on Sunday for
Relax & Surf Sunday
, where you can link up your blog and hop around on your own terms, with no rules!
Have a great weekend everyone!