Wow! Is it really October already? September just flew by! I guess when you have a big
first birthday bash
to get ready for (and recover from) time just gets away from you.
I'm working today. Boooooo! This is the first full Friday I have worked in a few months and I already know it is going to be a long day. I'm just not used to these five day work weeks.
What is everyone doing this weekend? We have so much to do this weekend, and I don't even know how it is all going to get done. I guess we're going to attempt
soccer
again Saturday morning. Well, everyone but me, because I'll be getting my hair done. Then we have a first birthday party to go for a beautiful little girl. After that, I need to take the kids to get their hair cut. This will be Bryce's first time! On Sunday we are meeting a friend in the morning for some Halloween pictures, and then Sunday afternoon we are going to hook up at the park with one of Rylie's best friends that she doesn't see that often now that she switched schools. And at some point I have to find a dress for a wedding I'm going to next weekend. Rylie's very first daycare teacher (and the one that was her second mom for the first year of her life) is getting married on 10/10. And I have nothing to wear. Have I ever mentioned that I hate shopping for clothes for myself? Well I do. I think I see an open hour or two in my schedule for the weekend. What else should I try to throw in there?
---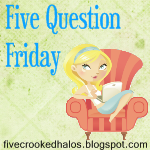 Now for my favorite part of Friday blogging! If you would like to play along with 5QF, head over to
My Little Life
and link up!
1. Did you have a pen pal when you were little (or now)? Where were/are they from?
I had a couple of them, actually. When I was around 10, maybe, we went to visit my aunt in Fayetteville, NC for a few weeks. While we were there I made friends with some of the kids in her neighborhood. In fact, I think I spent more time with my new friends than I did my family. After I got home I wrote back and forth with them for a while. I remember being really sad when I didn't hear from them any more.
I guess our kids probably won't ever know what "pen pal" means. Their question twenty years from now will be more like "Did you have a Facebook friend when you were little...?"
2. If you could do a different job for one day, what would it be?
I would rent jet skis out on the beach. Seriously. There can't be too much stress in that, right? I can work on my tan, too. Bonus!
3. Do you remember your biggest fear from when you were little?
Fire. And it still is my biggest fear. I have no idea where that came from either. But I remember laying in my bed and being afraid that my house was going to catch on fire.
When I was on maternity leave after I had Bryce, a house on the other street in our subdivision caught on fire and went up in flames. It was horrible. I was standing up in Rylie's room watching the smoke and fire come out of every window. I started thinking about how if that were my house, how would we get to Rylie if she was in her room and we couldn't get up the stairs? So I made Brian go buy a gigantic ladder that we keep downstairs by the back doors so we can get to her from the outside if we need to. I'm telling you, fire scares me.
Oh, and he also just bought an
outlet with a timer
on it because he got sick of me sending him texts asking if I had turned my flat iron off. I have issues, I know.
4. What do you think is a waste of time? Why?
Annual employee reviews. They are just stupid. If your employee isn't performing well, they should not have a job. And you sure shouldn't wait until the end of the year to let them know you're not happy with them. If an issue comes up, it should be dealt with immediately. And if you have an employee who you think is great, give them some praise every now and then. Again, don't just let them know once a year that you value them.
5. What is the oldest item you have in your closet?
Fuzzy. I actually talked about Fuzzy in a
5QF a few months ago
. Fuzzy is the stuffed animal that my dad bought me from the hospital gift shop when I was born. She currently resides in my closet.
---
Don't forget to stop back by after 10PM EST tonight for my
Weekend Win It
giveaway linky, where you will find some great giveaways to enter, and you can also promote yours! Come on over on Saturday for
Saturday Playdate
and meet a fabulous guest blogger. Then come back on Sunday for
Relax & Surf Sunday
, where you can link up your blog and hop around on your own terms, with no rules!
Have a great weekend everyone!