Happy Friday! It has been a busy week for me, as usual. I'm working today, so I'm counting down the hours until my weekend starts. Speaking of the weekend, we don't have too much planned for this one. I'm hoping to get caught up on some housework. Fun, huh? We do have another pumpkin patch outing planned with
The Hogan Family
. There has also been some talk about some bounce house jumping fun afterwards. I can't wait!
What is everyone else doing this weekend?
---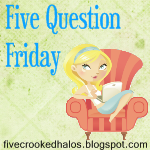 Now for some Friday blogging fun! If you would like to play along with 5QF, head over to
My Little Life
and link up!
1. What is your favorite Halloween candy?
I LOVE the sickening sweetness of candy corn. Unfortunately the stuff is addicting and I usually eat way too much of it. But still, YUM!
2. Do you fold your socks?
Not really. I basically stretch out the elastic by folding one over on the other so that they stay together.
3. What is something that you wish you had been warned about?
I have been warned about plenty that I just didn't listen to. But I really wish someone would have told me how addicting blogging is. I had no clue what I was in for when I started this little blog. Would I have heeded the warning if someone had given it to me? Eh, probably not.
4. What is the most significant difference between you and your significant other?
Our personalities. I am definitely "Type A" and he is laid back. It is probably a good thing, though. I don't think our relationship would be as great as it is if he were as loud, obnoxious, impatient and emotional as I am. He keeps me grounded.
5. What are three words you would use to describe yourself?
(And, just for fun...if your significant other is around, ask him/her what 3 words they would use to describe you!!)
Well, I guess you could pick three out of the four words I used in the last question. LOL I'll go with these: caring, honest, and loyal.
Brian said: smart, loyal and honest. (
Good thing I'm not the only person that thinks these things about me.
)
---
Don't forget to stop back by after 10PM EST tonight for my
Weekend Win It
giveaway linky, where you will find some great giveaways to enter, and you can also promote yours! Come on over on Saturday for
Saturday Playdate
and meet a fabulous guest blogger. Then come back on Sunday for
Relax & Surf Sunday
, where you can link up your blog and hop around on your own terms, with no rules!
Have a great weekend everyone!