Hey there! Thanks for stopping by to play! Today's playdate is going to be so much fun! Tiffany from
The Florida Hogans
is here today. Tiffany is one of my real life "besties" and we love getting together for playdates! Her two adorable little girls, Payten and Camryn, are each a month younger than Rylie and Bryce. We always have a ton of fun when we get together...especially on the rare occasion there are no kids involved. ;-)
Tiffany and I "met" through a local message board shortly after I got married. It wasn't until we were both pregnant the second time around that we really started talking, though. We got together for our first playdate when Bryce and Camryn were just a few months old, and I don't think there have been many days since then that we haven't talked in at least some form.
Enough of all of that, let's get this playdate started! When you're done playing over here, make sure you head over to Tiffany's blog and check out all of the cuteness over there! Give her some comment love, and maybe even a follow. I'm sure you'll want to visit again!
---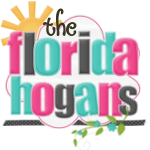 Let me start out by saying it's always hard to follow one of the greats… but I'll try. Though some of you might know me from
The Florida Hogans
I am honored that LeeAnn asked me to be a part of her awesome Saturday Playdate. I absolutely love reading these every week, but I have a confession to make. When LeeAnn asked me several months ago to be a guest poster I was so terrified that I made her postpone it for a few more weeks (guess I meant months). :-) I am not a person that is good with putting all my thoughts into words on paper at all. Although, others seem to disagree that I can have a never ending conversation, just ask my hubby… But having a conversation in person and actually writing it out is TOTALLY different. So after a few months of preparing this I think I am ready. So here goes. . .
My name is Tiffany Hogan, and I am married to a wonderful guy of almost 5 years. For any of you that know him for "real" and not in the blog world, he is quite the comedian or at least he thinks so! :-) I am a mommy to two beautiful girls. First there's Payten Elisabeth and she is a sassy 2 year old, and then my little talking princess Camryn Brooke who is now looking at her 1st birthday in October. I am a work at home mom that loves traveling, scrapbooking, and most of all spending time with my family & friends. Our weekends are usually jam packed with lots of fun things going on, but sometimes we do have to squeeze in a few house chores too.
I am your typical type "A" personality. Hyper, energetic, impatient, controlling, aggressive, workaholic, competitive, detail oriented, and the list goes on but I promise I have some good traits too. . .. One of my biggest traits is that I am extremely detail oriented. And if you asked my husband he would say that not only is it a trait, it's a little overbearing. As I mentioned earlier, Camryn is turning 1 this October. So like all parents do I am in the planning and preparing stages of her 1st birthday party. You're going to hear me mention a lot about my husband now because frankly, he thinks I'm nuts. He keeps saying she has no clue what is going on why you are putting so much thought into everything, this is just the way I am.
Everything has to be perfect.
But growing up in the Jersey home like I did I guess it's just little thing I picked up from my mom. I could be sitting on the
Jersey Shore
instead… but I digress. After every party I always tell myself that I will tone it down and I never do. I actually think I go even more overboard, if that is even possible. I enjoy all the preparations, they might make me a little crazy and stressed but I love detail! Camryn's 1st birthday party theme is a Sweet Shop Candy Stop. From the invitations, the decorations, the cake, and even the candy bar; the whole day will be all about SWEETS! I have been planning this for the past three months. I literally lay awake in bed at night going through the list of things to do in head (I know I have issues). The first step of my madness to every party is coming up with a theme. That usually takes me at least months before to actually decide. Then my next focus is invitations. For
Camryn's invitations
I found a very talented girl on Etsy. Once I saw them I knew those were the ones. Once the invitations are ordered then comes decorations. I'd go into detail, but I want you all to be surprised. I promise I'll post all the pictures on the 3rd of October. That's because…… you guessed it, the party is on the 2nd.
I look forward to seeing everyone in a few weeks, but in the meantime you can visit
The Florida Hogans
to find out more about myself and my family. Thanks again LeeAnn for the playdate and we'll have to do another one soon.
---