TGIF! Man, this was a tough week. I'm glad it is over! I took a vacation day today, so luckily I have another Friday off. I will be spending most of the day at the salon, though. I am getting my normal color and highlights, and then another Keratin treatment. The last one lasted over 6 months, so it was definitely a great investment, but now it is time to sit in that chair for three or so hours again. The things I must do for straight hair!
This afternoon I will be taking Rylie to her new school to get the kids registered and let her meet her new teachers. And after that, I'm packing her up and sending her away! Haha. She is going to be spending the weekend with Mama and Papa. Well, that is the plan, at least. Whether she will actually go is still up in the air. Mama has a really fun weekend planned for her! Meanwhile, I will be here cleaning up my house, catching up on my internet activities and getting ready for Bryce's party next weekend! My little boy is almost one!
---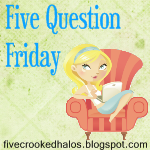 Now it is time for some 5QF fun! This is where you can learn some random facts about me, and I get to learn the same things about my friends who play along. If you want to join in, head over to
My Little Life
, answer the questions, and link up!
1. What do you do when you have time to yourself?
I don't really get much "me time" these days. But when I do, I am usually blogging. Oh, and doing laundry. It is never ending in this house!
2. When you look out your kitchen window, what do you see?
We don't have a kitchen window. I can see my sliding glass doors from my kitchen, though. When I can see through all of the tiny little handprints all over them, I can see our pool.
3. Who/What would you want to be reincarnated as?
One of my dogs. Because they get to lay around and sleep all day. Oh what I wouldn't do for one of those "dog days".
4. What is your biggest pet peeve about other people's kids?
Well, before I had kids I would have been able to write several paragraphs on this. But now, I plead the fifth. Because whatever I say, I'm sure my kids have been, or will be, guilty of it. So I'll just keep my mouth shut.
5. Regular or Diet soda?
Regular. Without a doubt. I can't stand artificial sweeteners...especially aspartame. Gross.
---
Don't forget to stop back by after 10PM EST tonight for my
Weekend Win It
giveaway linky. On Saturday I have a great guest blogger coming over for a
Saturday Playdate
. And come back on Sunday for
Relax & Surf Sunday
, where you can link up your blog and hop around on your own terms!
Have a great weekend everyone!