Hip hip hooray! It's Friday! Can you tell it is my off Friday? It has been one of those weeks.
Man, I seem to have a lot of those, huh?
There was a full moon, so we had our share of tantrums for a couple of days.
Is it weird that my daughter is affected by the moon like that?
Oh, and then there was the day that my husband lost his job. No worries about that, though, since he already has a new one and now basically just gets a two week paid vacation. Lucky duck! So we're both home today attempting to get some stuff done around the house. Fun.
Does anyone have any fun plans for the weekend? We are going to a first birthday party for an adorable little girl tomorrow. First, though, we have to go to Rylie's soccer game. Hopefully she will actually play this time! (I'll have more on The Great Soccer Debacle coming soon.) Other than that, we'll just be goofing off. I love the weekends!
---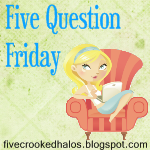 Are you ready for some 5QF fun? Check that out, two days in a row of random
questions about me
! Aren't you excited? If you want to play too, head over to
My Little Life
and link up!
1. If you could speak with a different accent, what would it be (i.e Australian, Scottish)?
Australian! I love the way they talk!
2. Can you fall asleep anywhere? (i.e floor, couch, deck)
Um, yeah. I have "narcoleptic tendencies" (diagnosed with a sleep study) so I have no problem falling asleep. Just ask my husband. We will sit down on the couch to watch TV and five minutes later, I'm out.
3. Do you use public restrooms? If so, do you sit on the toilet?
Yes. And yes. I have the bladder of a two year old, so public restrooms are usually a must for me. If they have those paper seat covers I will use those, but if not, I just wipe it off. Gross, maybe. But no worse than trying to squat and peeing all over the toilet seat and possibly yourself.
Using public restrooms has gotten to a whole new level of disgusting now that I have a potty trained toddler. I swear that kid has to go to the bathroom every five minutes when we're out eating. Of course she has to touch everything too. I'm surprised her hands aren't raw from all of the sanitizing wipes I use on her!
4. If you were stuck in an elevator for 24 hours, what celebrity would you most want to be stuck with?
In honor of the Grey's Anatomy premiere last night, I'll go with Eric Dane. Do I really need to give you a reason?
5. Where did you & your significant other go on your 1st date?
Pleasure Island! Well, if you can really call it a "date". There were a group of us that always hung out together, but that was the night I decided to snatch up my now wonderful husband and keep him all to myself. So that is what we consider our first date.
---
Don't forget to stop back by after 10PM EST tonight for my
Weekend Win It
giveaway linky, where you will find some great giveaways and you can promote yours! Come on over on Saturday for
Saturday Playdate
. Then come back on Sunday for
Relax & Surf Sunday
, where you can link up your blog and hop around on your own terms, with no rules!
Have a great weekend everyone!