Happy Friday! I'm actually working today, which seems a little wrong since I haven't worked a Friday in over a month. Whether or not I work all day, though, will depend on the state of Rylie's fever, so we shall see.
So who has fun weekend plans? Rylie has her first soccer game Saturday morning and then Mama and Papa will be here sometime Saturday afternoon to get their dogs. They are off gambling in Biloxi at the moment. Must be nice! I wish they could win big one of these days, and then I could take all the Fridays off for the rest of my life. Oh, and Mondays through Thursdays too! But anyway, that is it for our weekend. We need a low key weekend after the big party weekend we just had.
---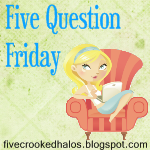 It's that time again! Time for you all to learn a little bit more about me, and time for me to learn some interesting facts about my friends who play along. If you want to join the 5QF fun, head over to
My Little Life
and link up!
1. What is the first nightmare you remember?
The only nightmare I can even think of right now is one I have had more than once. I am running from someone. I think they are trying to kill me. It is one of those where I wake up really scared, and it takes a minute or so to realize it was just a nightmare.
2. Even if you're not a sports fan, what's your favorite sport to play/watch?
I don't care for professional sports. It kills me to see those guys making all of that money, when other professions like teachers don't make near enough! But I'll get down off my soapbox and say that I used to enjoy watching hockey games. When I lived in Tampa I went to quite a few Lightning games and I always had a great time. Hmmm, maybe that had something to do with the fact that we sat up in a suite and drank too much??? I did like the fights, though.
3. If you could pull off one piece of trendy fashion, what would you want it to be (jeggings, hats, thigh high boots, etc.)?
Is it sad that I don't even know what is trendy? I'm all about comfort, and I don't think that thigh high boots would be even remotely comfortable. I'll just stick with my flip flops, thank you very much.
4. Did you make good grades in school?
Yep! As and Bs mostly. I think I might have gotten one C in high school. I graduated fifth in my class. I was a smarty! Same with college - Magna Cum Laude, my friends.
5. What magazines do you subscribe to?
None. I used to subscribe to US Weekly before I had kids. Once I had kids, I dumped that and subscribed to a couple parenting magazines. And after I threw about two years' worth away that had never been read, I cancelled everything. Maybe one day I'll have time for magazines again.
---
Don't forget to stop back by after 10PM EST tonight for my
Weekend Win It
giveaway linky. Come on over on Saturday for
Saturday Playdate
. And come back on Sunday for
Relax & Surf Sunday
, where you can link up your blog and hop around on your own terms, with no rules!
Have a great weekend everyone!