The weekend is here! Well, at least for me it is, because I'm not working today. We have such an exciting weekend planned! Sunday is
Bryce's First Birthday
! I cannot believe my baby is turning one already. We have a big birthday bash going on Saturday that is going to be so much fun!
So I won't be around much this weekend. Today I'll be getting everything ready for the party. Surprisingly, I don't have all that much left to do. But you know everything takes longer than you think it will. I pretty much just have to get the favor bags ready, buy the rest of the food, and get stuff loaded up to haul to the park Saturday morning. Rylie also has her first soccer practice Saturday morning, so Brian will be playing "soccer dad" while I get everything set up for the party. My family will be descending upon my house tonight, and I fear I will be tripping over people sleeping all over the place. Good thing kids don't mind sleeping in sleeping bags on the floor! I can't wait to celebrate Bryce's birthday, and I am so grateful to have so many awesome family members and friends that love him as much as they do to come celebrate with us!
---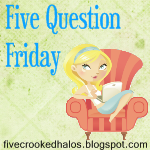 Now it is time for some 5QF fun! This is where you can learn some random facts about me, and I get to learn the same things about my friends who play along. If you want to join in, head over to
My Little Life
, answer the questions, and link up!
1. Do you feel guilty spending money on yourself?
No. And you know what? I don't do it enough. Most of my spending is on my cute little kids. I would much rather shop for them. But I deserve something nice every once in a while too, right? I think a massage may be in order after this weekend.
2. How well do you know your neighbors?
Other than my next door neighbor, I don't really know them at all. We live on a very busy street that people use as a cut through (jerks!!!) so it isn't like we really have a "neighborhood". I miss my old neighborhood where we lived in a cul de sac and everyone just kind of gathered around on the evenings and weekends.
3. What age are you looking forward to being?
Well, I'm 35 now, so I'm certainly not looking forward to getting any older. I would really like to be 25 again, though.
4. Do you get excited when the mail comes? Why?
I do get a little excited these days since I have been doing some product reviews lately. I love when I get cool stuff delivered. But normally, no. My mailbox is usually just filled with junk and bills. Who gets excited about that crap?
5. What is your earliest childhood memory?
Did we already have this question? Or am I having a serious case of Deja vu? I think my earliest childhood memory was when I was in first grade and they were moving some kids out to a new class. I was so afraid that I would be moved and I didn't want to leave my teacher. Luckily I got to stay with her.
---
Don't forget to stop back by after 10PM EST tonight for my
Weekend Win It
giveaway linky. Come on over on Saturday for
Saturday Playdate
. And come back on Sunday for
Relax & Surf Sunday
, where you can link up your blog and hop around on your own terms, with no rules!
Have a great weekend everyone!