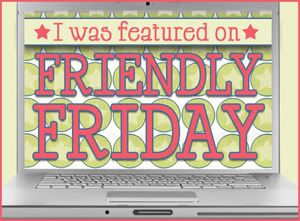 I'm so excited! I am one of the featured bloggers on Friendly Friday this week!
Friendly Friday is one of my favorite blog hops. It started a few months ago, and I don't think I have missed a Friday of hopping with them yet. It is hosted by three great ladies - Xenia at
Thanks, Mail Carrier
, Charla at
Healthy Home Blog
, and Christi at
The Frugal Novice
. To join in on the fun, click that cute little button at the top of this post and link up with us!
If you are here visiting from Friendly Friday, thanks for stopping by! I hope you like it here and will come back again. I love new followers, so if you decided to follow through any network (GFC, Twitter, FB, NB) make sure you leave a comment and let me know so I can follow you back.
I have a couple great giveaways going on right now. One is for a
$60 CSN Stores gift certificate
and the other is for a
Bazzle Baby bib or paci clip
. Make sure you enter while you're here! Come back late Friday night or early Saturday morning for
Weekend Win It
, where I blog about the great giveaways I found during the week, and host a linky for you to post your giveaways on. Saturday also brings
Saturday Playdate
, where a guest blogger will entertain you for the day. One of my long-time friends will be over to play this Saturday. I can't wait! And don't miss
Relax & Surf Sunday
, a new awesome blog hop. Whew! There is always something going on around here!
Happy Friday!