TGIF!!! This has been another long week and I am so glad it is almost over. We have a fun Saturday planned with a birthday party in the morning, and a little mini photo shoot for Bryce / playdate Saturday afternoon. Sunday is going to be a day of rest (and chores, of course), because I need it!
---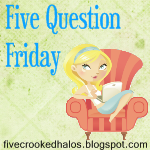 It is time for 5QF! I'm a little late today since a certain someone (ahem, Mama M.) is on vacation and didn't have the questions up before I went to bed last night. How dare she forget about us and try to enjoy her vacation instead?!?! LOL So here you have it…the lunch time edition of 5QF. If you want to join the fun, head over to
My Little Life
and link up. Oh, and Mama M – I hope you're having a great time with your family!
1. Are you a neat sleeper or a messy sleeper?
Well, I wake up with the covers still on me, so I guess I would say neat. I think it is because I'm usually so exhausted that I just don't have the energy to move around much while I'm sleeping. I have been known to talk a lot, though.
2. Fill in the blank. I wish I was more ________________.
I wish I was more in control of my emotions. I'm a big cry baby and I hate that. I cry when I'm sad, mad, happy, etc. It is embarrassing and sometimes prevents me from saying what I need to say because I'm afraid I'll cry and look like an idiot.
3. What is something that you wish you had been warned about?
I wish someone would have warned me about how addicting blogging is! There should be meetings for people like me.
4. What was the best thing you ever found at a garage sale/flea market?
I don't do garage sales and flea markets. And there is nothing wrong with those of you that do. You probably save a hell of a lot more money than I do. I just don't buy anything used. I can't stand the thought of someone else's germs being on something I am going to use or wear. Even when I buy something at the store, I never take the one in the front because I know it has been touched a million times. Gross.
5. If you could have any meal brought to you right now, what would it be?
Well this is weird. Nothing sounds appetizing to me at this very moment. I better go check my temperature because I simply MUST be getting sick!
Lately I have been loving breakfast food. So how about an omelet with cheese and spinach, some breakfast potatoes and a couple pancakes? Yum!
---
I hope everyone is having a fabulous Friday! Make sure you come back late tonight (or tomorrow morning) for
Weekend Win It
. I have some great giveaways to tell you about, and you can link up your giveaways too. Don't forget about
Saturday Playdate
tomorrow. I have more greatness for you, as always. Stop by on Sunday for something new and fun!
Have a great weekend!