Yay! Another weekend is here and I get to start it early this week! In fact, I haven't worked a Friday in the last three weeks, and I won't be working one again until mid-September. Sweet!
I hope everyone is having a great week. Bryce had a rough week this week and after one very sleepless night we discovered that he has an ear infection. This is the second one since his tubes?!?! I can only imagine how bad it would be without the tubes. He has ear drops now and already seems to be doing much better. Rylie is a little sicky too with some congestion, which led to her having a coughing fit and barfing all over my bed the other night. Since then we have been giving her a spoonful of honey before bed and it has helped keep that cough at bay. So yeah, we haven't had the best evenings around here this week. Hopefully these kids can sleep these sickies away this weekend and get rid of all of this crap soon!
Does anyone have any fun plans for the weekend? We actually do not have ANY plans this weekend.
How did that happen?
But since Bryce's big birthday bash is only two weeks away, we certainly have plenty to do!
---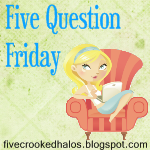 It's time for 5QF! Where you get to learn a little about me, and I get to learn some new stuff about my friends that play too. Want to join in on the fun? Head over to
My Little Life
and link up!
1. How many pets do you have?
Four.
We have two golden retrievers named Cosmo and Chloe that are actually brother and sister. They have the same parents, but were born in different litters a year apart. Cosmo is 9 (and is gray as a grandpa) and Chloe is 8. Cosmo loves to play Frisbee and Chloe loves to lounge around in the sun. They are the best dogs ever and ridiculously tolerant of the kids.
We also have two cats named Morgan and Shadow. I rescued Morgan from the shelter when he was like 8 weeks old way back in 1997. Shadow, who is about the same age as Morgan, joined our house a few years ago after my friend Dawn rescued him from an owner that didn't care too much for his well being.
(He was declawed and forced to live outside. How is he supposed to survive out there with no claws? Declawed cats belong inside!)
Shadow loves the kids and pretty much allows Rylie to
love
torment him on a regular basis. Morgan, on the other hand, runs away the second one of the kids enters the same room he is in.
2. If you could switch places with anyone in the world for one day, who would it be?
Anyone that is on vacation in a tropical paradise. Well, not just anyone, it would have to be someone with a lot of money. Enough that I could sip drinks and get massages all day long, and come home with shiny souvenirs. Oh, and I would sleep. I would definitely sleep.
3. What is your favorite money saving tip?
Well from the state of my bank account, it appears that I don't have many of those. But I did learn a good one pretty fast. Never, ever, ever buy anything full price at Gymboree. Because it will be on sale a week later and you will be kicking yourself for getting screwed.
4. What do you want your kids to be when they grow up?
I guess I could give the popular answer of a doctor, lawyer, actor, professional sports player, or any other profession that makes a ton of money so I could actually retire and have someone else take care of me.
But I won't.
I want them to be whatever
THEY
want to be. Well, unless I have to support them when they are 30. Then I might try to point them in a different direction.
5. What is your favorite quote?
"And this too shall pass."
I have no idea who said it, or where it came from, but that has been my mantra lately.
---
Don't forget to stop back by after 10PM EST tonight for my
Weekend Win It
giveaway linky. On Saturday we have a great guest blogger coming over for a
Saturday Playdate
. And come back on Sunday for
Relax & Surf Sunday
, where you can link up your blog and hop around under your own terms!
Have a great weekend everyone!