Happy Friday! It is my off Friday, so it is a really happy one for me! I will be glued to the computer all day
trying
to get my inbox cleaned out. It is ridiculous how far behind I am with my email.
---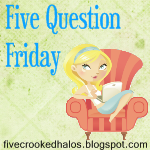 I love 5QF! It is so much fun to find out new things about my friends, and to tell you all a little about me. If you want to join the fun, head over to
My Little Life
and link up!
1. Have you ever visited another country?
Yes! We went to Costa Rica on our honeymoon. I can't wait to go back! I have also been to the Bahamas, Mexico, Honduras and Belize when we went on a cruise years ago. We really need to do that again one of these days.
2. Where is the strangest place you have ever been?
I went to a Rocky Horror Picture Show once. That certainly wasn't normal. Does that count?
3. What is your favorite season?
I live in Florida, so we don't really have seasons here. But I would say "spring". It comes right at the time when I am really sick of the cold weather. It warms up just enough so we can wear shorts and be outside during the day, but we don't have to worry about keeling over from heat exhaustion.
4. What one song will always cheer you up?
There are a lot. Anything with a good beat that I can jam to will make me happy. But since I am missing both of my best friends right now, I will say "Expression" by Salt N Pepa. That song makes me think of them and reminds me of all the good times we have had over the years.
(I think I used that song for another 5QF answer a while back...yeah, I'm lame and I am not really all that in to music.)
5. What Disney character do you resemble most?
Tigger. I'm always bouncing around somewhere.
---
I hope everyone has a fabulous Friday! Make sure you come back late tonight (or tomorrow morning) for
Weekend Win It
. I have some great giveaways to tell you about, and you can link up your giveaways too. Don't forget about
Saturday Playdate
tomorrow. One of my "besties" is coming over to play this Saturday! And I know I said last week to stop by on Sunday for something new and fun, but this week I really mean it.
Have a great Friday!