Hello Friends! (Hmmm, did I just sound like DJ Lance there?) Thanks for stopping by to play! Today's playdate is with Heather from
Life With The Ardies
. Heather is another awesome friend I met through a blog party a few months ago. She hangs out over here with me all the time and leaves the sweetest comments.
Heather is a doctoral student in psychology. So is her husband. They both go to school full time, work and take care of their beautiful "Babygirl". (And here I thought my life was crazy!) Babygirl is just a couple of weeks older than Bryce, and if they lived closer, we would definitely be having some real playdates! She blogs about their life (duh, look at the title of her blog), and all of Babygirl's awesome moments and milestones. She also posts other silly stuff that makes me laugh (or at least giggle along with her) often.
When you're done over here, definitely go check out her blog and say hi! But I have to warn you, you may want to hang out and play over there for a while. So grab a cup of coffee, or maybe even some wine (it is five o'clock somewhere, right?) before you go!
---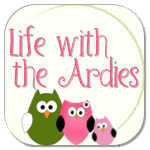 Big thanks to LeeAnn for inviting me over for a play date today! Play dates rock and I wish I had more of them. I'm one of the first of my friends to have a kiddo, so thank goodness for the one friend I can have play dates with. I can't wait for more of my friends to have babies because rumor has it that I like to bring wine to my play dates…
With that said, I brought a Riesling and a Chardonnay. What would you like?
All set? Good!
So… hello everyone! My name is Heather and I am a mother of a beautiful baby girl. I've written this post nearly 15 times and probably edited it another 50. There are so many things I wanted to talk about. But since my daughter will be turning the big numero uno at the end of next month, and because a year has nearly flown by, I've been trying to think about how far I've come in life. So here it goes…
My motherhood journey has been small in the grand scheme of life, but I've learned so much about myself in these short 11 months.
I remember my friends in college telling me that I was going to be an amazing mother. Not sure exactly what they were referring to, I always smiled and said thanks. I never really believed them though. I wasn't worried about not having enough food or a roof over my child's head. And I wasn't worried about hurting my child either. Instead, I wondered whether or not I was fit to be a "mom".
My idea of a mom was the standard stereotypical mom: A person who is too practical, wears outdated and/or baggy clothes, never has make-up on, sports a bad haircut, is uptight, frazzled, and stressed. And to be honest, I wasn't sure if I'd let my kids come first or if every decision I made would be dependent on my kids.
Growing up, I took pride in being a strong, independent woman. I had a great group of friends, but hated the feeling of someone depending on me. I hated that feeling so much that I would distance myself as soon as I felt one of my friends "needing" me. I enjoyed my freedom. And I enjoyed
me
. Call it conceited. Call it spoiled. I don't care. I loved everything being All. About. Me. I loved being able to do whatever I wanted, whenever I wanted. I thought life was great and I didn't want that to change when I had kids. Now don't get me wrong, I wanted to have kids, but it was more of a that's-just-what-you-do-as-a-woman-when-you-grow-up kind of thing.
Fast forward a few years. I'm newly married and slightly more mature. Still enjoyed my freedom and independence, but sharing those things with my husband was great. We could do anything we wanted, whenever we wanted.
But as time moved on I started thinking about having kids more and more. I had baby cravings, but my main goal was to earn my PhD and have a little fun in the process. I knew that having a child would keep me from making progress academically. And having a child would hinder the social life just a wee bit too.
Ok, maybe a lot.
But that's beside the point. I got pregnant right smack dab in the middle of my graduate program. And I was going to have a baby regardless. I was thrilled and nervous at the same time. Nervous for many reasons, but mainly because dropping out of school
was not
an option. We needed my income. And my job as a teaching assistant required me to attend school. Full-time.
Let me reiterate that… I'm talking about going to graduate school full-time and working part-time. When and where am I supposed to have a baby AND raise the baby in that process? I couldn't quit school. I didn't have a maternity leave. And say goodbye to that feeling of being free and being social.
Fast forward to August of last year. The newest addition of the Ardie household had arrived. The absolute nanosecond I saw my daughter for the first time, my whole world changed. I didn't care about my freedom. I didn't care about my social life. I didn't care about someone depending on me. I didn't care about grad school (at least not at the moment). All I cared about was my family, my daughter, and whatever I needed to do to ensure
she
was well taken care of.
So I guess my friends knew something I didn't. Yes you have the stereotypical moms, but you can be a great mom without being outdated and uptight. I am, however, guilty of wearing baggy clothes more often than not. And leaving the house without make-up more often than not. But I don't really consider myself to fit the prototypical "mom". But a good one, nonetheless.
Looking back, it's hard to believe I questioned myself as a mother. Something happened on August 31st of last year. Call it a new hormone that is released once you give birth. Call it magic. Whatever it is, it changed me and it changed me for the better.
The love a mother has for her child is beyond words. I love my pets and I love my husband, but NOTHING even remotely compares to the love I have for my daughter. There isn't one single thing that will stand between me and Babygirl. It's only been an 11 month journey, but knowing that I'm more of a mother than I ever thought I'd be has been one heck of a journey thus far.
Gone are my social butterfly days. Gone are the days of my freedom. Gone are the days I considered to be the best days of my life.
Those days
were
the best days of my life. Until now.
These
days are the best days of my life. Without a doubt.