Happy Friday! Thanks for stopping by my blog. If you're new here, I hope you'll hang out for a while. And if you are back because you know what a fun place this is, I'm glad to "see" you again! Please leave a comment and let me know you stopped by. If you're here before 9AM EST, make sure you stop back by later to check out the great products in the Weekend Review. I have another giveaway starting up then too!
And now for Five Question Friday. Wanna play? Just head over to
My Little Life
and link up!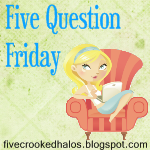 1. What is one food you could eat everyday?
Are we pretending that there are no ramifications for eating this certain food every day? Like say this food had zero calories? I would have to say ice cream. If I had to pick one kind, it would be the creamy deliciousness of Edy's Double Fudge Brownie. YUM! Oh how I miss my nightly treat.
2. Are you working in the career you thought you would be when you were 18?
Yes. By the time I turned 18 I was already done with my Freshman year of college, and had already had that Chemistry class at 7AM that ruined my dreams of being a pharmacist! What profession doesn't have to take science classes? Accounting? Sign me up!
3. What is something that you wish you would have done when you were younger and you didn't?
Have kids! I hate that I am already in my mid 30s and Brian is going to be the big 4-0 this year! It is fine now, but it sucks to think about how old we're going to be when the kids graduate from high school, get married, have their own kids, etc. Hopefully they won't wait as long as we did! (I know that probably wasn't what the question was really asking, but I did everything I wanted to when I was younger, so I don't really have an answer.)
4. What color are your kitchen walls?
I call them "primer white". It is the cheap builder paint that we never got around to painting over. We're so fancy here! Nice, huh? Anyone want to come decorate for me?
5. Do you remember what your very first favorite song was?
Nope. Maybe something by Michael Jackson? When I try to think back, his songs are really the only ones that come to mind.
Have a great Friday, and a great weekend! Stop by Saturday to see who will be playing with us this weekend!