TGIF! Today is an off Friday for me! Have I ever mentioned that I LOVE having every other Friday off? Today is a busy day, though, so there won't be much time for relaxing, that is for sure. I have a hair appointment this morning that I desperately need! People are going to start thinking I am Rylie's grandmother with all of the grays I have. Then I have to go put the deposit down at the park for Bryce's party (more on that some other time) and do some shopping. I'm in desperate need of some new makeup that matches my not-so-pale summer glow, and some clothes that actually fit. I won't even talk about all of the chores I need to get done, because that will just ruin my day.
If you're here for the first time from one of the fabulous Friday blog hops, welcome! Please leave a comment and let me know you stopped by so I can come check out your blog. If you are one of my long time friends, welcome back! I'd love to hear from you all too!
Are you ready for some 5QF fun? If you want to join in, just head over to
My Little Life
and link up!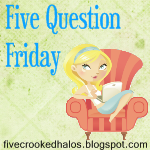 1. Did you have a favorite blanket or toy as a kid? If so, do you still have it?
Yes! I had "Fuzzy". And I still have her. Although she doesn't quite look the same as she did 35 years ago. My dad bought Fuzzy from the hospital gift shop when I was born. She was this fluffy pink mouse. She used to have hands, feet, ears and a tail, but my childhood dogs took care of amputating all of her limbs. She used to be clean. I can't even describe what she looks like now. A dirty sewer rat, maybe?
A couple of weeks ago, I was telling Rylie about her "Fuzzy"...which is the closest thing Papa could find to my Fuzzy when Rylie was born. I told her that Papa bought that for her just like he bought one for me when I was a baby. So she wanted to see my Fuzzy. She couldn't wait! The excitement faded, though, when I pulled my stinky, old Fuzzy out of my closet...
(Yes, that is probably the crappiest cell phone picture I have posted yet, I know.)
She decided she likes her Fuzzy better. But even if she is stinky and dirty and no longer has any limbs, I still love my Fuzzy and I will keep her forever!
2. Do you dream in color?
I think so. I don't remember ever noting that my dreams looked like some old black and white movie.
3. How tall are you? Do you wish you were shorter or taller?
I am 5 feet, 5 1/2 inches. Yes, I count halves. My husband always laughs at me when I stick that half in there. Well, that is how tall I am, damn it! I do like my height for the most part, except on the few occasions that I have had to buy "short" pants. Really? I'm over 5'5" and I need "short" length? Who decides who is short, regular and tall, anyway?
4. If you could have anyone's (celeb or other) voice as the guide on your GPS, who would it be?
The Geico gecko. Most definitely.
5. Do you return your shopping cart to the corral or leave it wherever in the parking lot?
I try to return it. I really do. If I have the kids with me, I try to park by one of the corrals. If I can get a spot close to one, obviously I return it. If I can't find a spot near one, though, I am not about to leave my kids in the car while I try to return the cart. Sorry. And if there isn't a corral, then yes, I usually leave it wherever in the parking lot unless I am close to the entrance of the store. In that case, I will usually walk it back up near the doors. Again, providing the kids aren't with me.
Have a great weekend everyone! Be sure to stop back by tonight for
Weekend Win It
to check out some great giveaways going on, and link yours up. Don't forget about
Saturday Playdate
tomorrow!