Happy Friday! This week actually went by pretty quickly, thank goodness! This is a working Friday for me, so it isn't quite as happy as last Friday was, and next Friday will be. But still, it is Friday! Yay!
Welcome friends - old and new! Thanks for stopping by today! If you're here for the first time, I hope you have a minute to take a look around, and that you'll enjoy what you see. If you're here for the 100th time, well, I guess it is pretty obvious that you like it over here.
It is time for Five Question Friday! This is always so much fun! To join in, just head over to
My Little Life
and link up!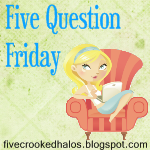 1. What were your school colors?
Blue and White. And just for poops and giggles, our mascot was the "Rebel". Ahhh, the good old days. Or not.
2. What's the best compliment you ever received?
This is tough. I love all compliments. I mean, who doesn't? I guess one compliment that really stands out in my mind was when my dad told me what a great mother I am, and what a great job I do with my kids. I have always wanted to make my parents proud, and I still do.
3. Do you buy cheap or expensive toilet paper?
Is Charmin considered cheap or expensive? I am actually very picky about what I wipe my butt with, so that is the only kind we buy.
4. Have you ever had a surprise party thrown for you? Or have you had one for someone else?
Yes! My 16th birthday was a surprise party. It almost ended up not being quite a surprise thanks to my friend that was supposed to get me there. But when I walked into Chuck E Cheese thinking we were dropping her brother off at a party and saw all of my friends and family there, yeah, I was surprised. So yes, my 16th birthday party was at Chuck E Cheese. And it was great!
5. What is one material possession that you "can't live without"?
These days, my laptop. I think I would seriously get the shakes if I couldn't blog. :-D
Don't forget to stop back by tonight (after 10PM EST) for
Weekend Win It
! I have some cool giveaways to tell you all about and I'd love for you to share yours with me!