TGIF!!! It has been a long 4 day week for me. Lucky for me, I am off today. And I NEED it! My inbox literally has over 1,000 items in it, and I have a lot of blogs to catch up on. So if you need me, you will find me either in front of my computer, or in the laundry room. Oh, and I'm sure I'll be in my PJs too. :-)
Welcome to any Friday blog hoppers that are here for the first time! I hope you enjoy what you see and you will come back. And a big HEY to all of you that already like it here! Please leave a comment and let me know you stopped by.
And now for Five Question Friday. Wanna play? Just head over to
My Little Life
and link up!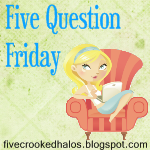 1. Do you collect anything?
If you walked in my front door right now you would think I collect toys. Because they are seriously all over my house! But no, I don't collect anything. I used to collect shot glasses a long time ago. I only had a few cool ones, though. And then I moved on to beer glasses, but my kitchen just doesn't have that much cabinet space.
2. Name 3 celebrities that you find good looking.
Eric Dane, Matthew McConaughey, and George Clooney (even though he is getting old)
3. Do you have any scars? If so, what's the story behind it (them?)?
Just one REALLY big one where no one will ever see it except for my husband. You know, where two babies were yanked out of me. If you really want the story of the first time I got that scar, you can check out
Rylie's birth story
. Maybe one of these days I'll write up Bryce's.
4. What is a food that you like to eat, but others might think it's gross or weird?
I don't eat weird food. Some people do find it weird, though, that I eat one thing at a time and different foods can not touch each other.
5. Have you ever seen a tornado in real life?
No, but that would be really cool! Only, of course, if I were strapped down to something and I knew I wouldn't get carried off to Oz!
Stop by later on for my new "Weekend Win It" feature. You'll be able to link up your giveaways and find some really great ones to enter!