Happy Friday! I hope everyone had a great week. My work week was nice and short so I can't complain about that, although I still feel like I need to recuperate from our vacation.
If this is your first time visiting my blog, Welcome! Please leave a comment so I know you stopped by. I love new followers, and I will generally follow you back.
Now for the 5QF fun! If you want to play, head over to
My Little Life
and link up!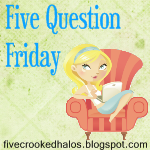 1. If you could go back to college would you change your major? Or, if you were to go to college right now...what major would you choose?
I tried going back and changing my major, and it didn't work out for me. I am an accountant and I thought it would be really fun to go into ultrasound. It was probably just the fact that I was sitting in a Physics class with a bunch of kids straight out of high school, but I decided I really didn't feel like starting all over again. I really do like what I do, so even if I could go back and do it again, I probably wouldn't change.
2. What do you love most about your home?
My yard. It is huge compared to most yards around here. It is hard to find a big yard in Central Florida, and we built our house where we did in order to have the yard we have. When we moved in we had our two golden retrievers that love to play Frisbee and ball, so we definitely needed the room then. And we knew we wanted to put a pool in. Now that we have the kids, we definitely need it!
3. What types of books do you like to read (if you like to read at all)?
Read? What is that? Oh wait, I don't have time to read. But when I used to read I liked thrillers and mysteries.
4. What is the grossest thing you've ever eaten?
I don't intentionally eat gross things. In fact, I could have gone to flight school when I was in the military, but I passed on that because I didn't want to have to go to survival school and eat bugs. Ewwww. Once when I was a kid I grabbed some yogurt out of my Grandma's fridge and started eating it. I told her it tasted a "little fizzy". Yeah, it had gone bad. Blech. So I guess that is the grossest thing I have ever eaten. That is probably why I taste every single milk or yogurt that Rylie gets before she eats it. Yeah, I'm a nut like that.
5. If you HAD to be a character on a TV show, whom would you be?
Lexie on Grey's Anatomy. Um, "McSteamy" and Alex. Need I say more? ;-)