Happy Friday everyone! If this is your first time checking out my blog, welcome! And whether you are here for the first time or are one of my regular readers (thank you all, BTW), please leave a comment and let me know you stopped by. If you follow, I will usually follow you back!
Make sure you check out my "Current Giveaways" section in the right sidebar. If you're here before 9AM EST, check back after 9 for our
Weekend Review
and a new giveaway!
Wanna join in on 5QF? Head over to
My Little Life
and link up. It is always so much fun!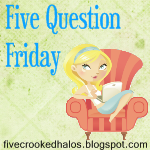 1. Do you know how to play a musical instrument?
Well, I used to. I could actually probably still play the piano, but it certainly wouldn't be any Bach or Mozart. My mom put me in piano lessons when I was two and I did that for a while. I also played the flute and clarinet in middle school. I'm sure I could play "Mary Had A Little Lamb" on the recorder if you
really
wanted some entertainment.
2. What is your pet peeve while driving?
When there is a line of cars backed up in a particular lane to turn, get off on an exit, or whatever, I absolutely cannot stand those jerks that drive all the way up in the next lane over and cut in, so they don't have to wait. The main reason the line is there in the first place is because of people like that! I deal with this every single morning. It is probably a good idea I don't carry a gun in my car!
3. Would you rather have a housekeeper or unlimited spa services?
A housekeeper! What good is getting a manicure when you're just going to ruin your nails scrubbing your shower? And why bother getting a massage when you're just going to kill your back bending over and scrubbing those tubs? No thanks. I hate cleaning.
4. Is there a song that you hear that will take you back to the moment, like a junior high or high school dance?
Oh there are plenty! The first one that came to mind is "Expression" by Salt N Pepa. My friends and I actually went through and split up the lines and we each sang the different parts. Hilarious.
5. What song best represents your life right now?
Is there a song out there that says "I stay up way too late blogging and then I wonder why I'm so tired all the time"? Or one about a messy house? (Yeah, since I can't think of a song, I am making a pitiful attempt at being funny.)
Have a great weekend!