Happy Friday everyone! By the time this posts in the morning, my very first giveaway will have ended and I'll be announcing the winner sometime in the afternoon! Check back after 9AM EST for the Weekend Review and a new giveaway!
If this is your first time checking out my blog, welcome! And whether you are here for the first time or are one of my regular readers (thank you all, BTW), please leave a comment and let me know you stopped by. If you follow, I will usually follow you back!
Wanna join in on 5QF? Head over to
My Little Life
and link up. It is always so much fun!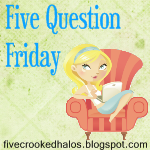 1. What is your favorite thing about summertime?
Swimming! It never used to be, but since it is Rylie's favorite thing to do, it is mine now too. She wants to put her bathing suit on the second she gets out of bed Saturday morning. It is so cute! And now that the swing set is in, I have a feeling our weekends will mainly be spent in our backyard. Yay for summer!
2. What is your ideal retirement location (if money didn't matter)?
I haven't really traveled much, so it isn't like I even know of many places. So I'll say Costa Rica. We went there on our honeymoon and I have heard that it is a great place to live.
3. Do you live in the same town you grew up in?
Unfortunately, no. I'm close, but not there. I miss it.
4. What nervous habit did you have as a child that you kicked to the curb before becoming an adult?
None. The only really nervous habit I have is picking at the skin around my fingernails...which I still do.
5. What is the most embarrassing thing that happened to you while on the job?
When I was pregnant I was walking up the front walkway and my ankle gave out and I fell. It was embarrassing to me, even though no one saw me. I can only imagine the paperwork I would have had to fill out if someone had witnessed that! And I realize that was a lame answer, but I don't usually get embarrassed.