Happy Friday everyone! Welcome to my blog! It has been an exciting week around here. I announced my
first giveaway
and I also now have over 100 followers. So cool, right?
If this is your first time here, please leave a comment so I know you stopped by. I love making new friends and I will most likely follow you back with GFC.
Five Question Friday is always so much fun! Wanna play too? Head on over to
My Little Life
and link up!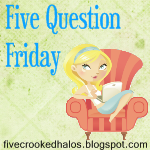 1. What do you think makes a good friend, or friendship?
Honesty, and the ability to be up-front with someone if there is an issue. There is nothing more hurtful than finding out that a friend lied to you, or bad mouthed you behind your back. But aside from that, I think sometimes there is just a bond that two people have that can't be broken. I have a couple of friends that we can go months without seeing each other, and when we do, it is like we were just together yesterday. I know I have a bond with them that will never be broken. We're just good like that.
2. What is the last thing you bought & later regretted?
Hmmmm. This one is hard. I very rarely have shopper's remorse. Honestly, I can't think of anything at the moment.
3. Have you ever had a prank played on you?
No. Not that I know of, at least. Most of my friends know better! LOL (And don't you guys get any ideas...)
4. What is your favorite theme park?
Islands of Adventure at Universal Orlando. I am a roller coaster nut and I love the Hulk!
5. Have you ever seen someone else give birth?
No. And I don't want to.